Waikoloa Beach Resort, Big Island, Hawaii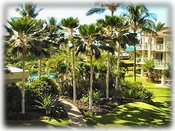 Upscale Fully Remodeled Partial Ocean View Luxury Condo
2 bedroom, 2 bathroom condo
You'll find paradise in Waikoloa! Stay in this luxurious, private, end unit, two bedroom, two bath condominium on the second floor with extended bedroom floor plan, overlooking the pool with views out...
La Penita De Jaltemba, West Coast


Casa De La Alegria, 100 Steps To Beach
2 bedroom, 1 bathroom home
Welcome to Casa Pacífico in beautiful Nayarit, Mexico. This unit (Casa de la Alegria) is one of two on the property. Tired of the "walk to everything" descriptions? I could walk across the country if...