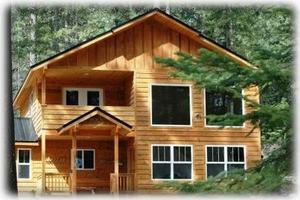 "The only reason this property didn't score 5 stars, the beds were very uncomfortable. Other than that it exceeded our expectations!" - Jeff C., null,nickname:null,profileUrl:/td/profiles/4606e21b-0224-43ba-943e-1d089dd41688,profilePhotoUrl:/bizops/travelerHome/picturePublicPathByAccount?accountUuid=4606e21b-0224-43ba-943e-1d089dd41688&pictureSize=normal,profileImage:https://dispatch.homeaway.com/bizops/travelerHome/picturePublicPathByAccount?accountUuid=4606e21b-0224-43ba-943e-1d089dd41688&pictureSize=normal},response:{status:null,body:We're sorry to hear that you were not able to find a bed to fit your needs. We've supplied a variety of mattress types for different back requirements. We are glad to hear that the rest of your stay was enjoyable.,language:en,country:US}},{uuid:39b52b81-0b9e-4ec0-a813-a826aba9a9ac,headline:Great time,rating:5,body:We had a great time. Goods things to say, such as: Lots of space. Plenty of towels. Owner is responsive and pleasant. Plenty of tools to use in the kitchen for cooking. Would recommend it to large family or groups of families.,arrivalDate:2017-01-13T00:00:00Z,createdDate:2017-01-27T23:08:00Z,voteCount:0,reviewer:{location:Olympia, WA, 12/10/2017 (HomeAway Review)
"Thank you so very much!!!" - Teryn C., 2125 Burley Dr.,Ev, 09/02/2017 (VRconnection Guest Feedback)
"The property was great. Warm, cozy, inviting and trouble free. Janine was a joy to communicate with and responded back in a reasonable time frame. Thank you very much." - David S., 12/19/2016 (HomeAway Review)
"Our party of 10 had a wonderful stay! The house was beautiful inside with many details throughout the house, that made it a warm and cozy stay. We went in December and were pleasantly surprised there was a Christmas tree and Christmas decorations throughout the house and even outside. This was perfect for our friends Christmas gift exchange! The house was clean, the kitchen was sufficiently equipped to cook large meals and the hot tub was conveniently located right off the back porch. Great for the snowy winter. I was very impressed at how organized the house was with labs and a binder of things to do and having enough towels, blankets, pillows...etc. Our stay of 10 was a little tight for sleeping quarters, due to everyone being a couple. But there is the option for a couple to sleep on the couch or the pull out couch in the living room, which is what we did. Overall we loved our stay and would highly recommend to anyone!" - Julie R., 12/13/2016 (HomeAway Review)
We're so glad you enjoyed your stay. We look forward to your return visit. Happy Holidays!
"Absolutely beautiful home! We have been coming to Leavenworth/Plain for a family vacation for 6 years now and this is finally the year where we have been completely satisfied with our rental. Everything was perfect, super clean, lot's of games and movies for all ages. The devotional books placed in the bedrooms was a lovely addition for me! Hot tub was enjoyed very much as well! Thank you so much for providing the perfect vacation spot! We will definitely be back next year!" - Emily H., Langley, WA , 10/30/2016 (HomeAway Review)
We're so glad you enjoyed your stay! We look forward to your return visit!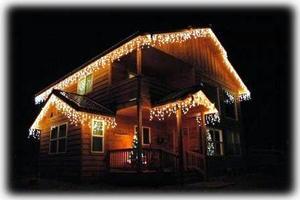 "A group of us - 7 women - rented this house for 2 nights for a golf tournament. There were enough sleeping places for everyone, a wonderful kitchen for all of our chefs, plenty of room for everyone to watch the Ryder Cup and/or play cards. The hot tub was perfect for those that indulged. Janine, the manager, was exceptionally helpful with a few questions that we had. Thanks for a great visit!" - wanda s., Port Townsend, Wa, 10/07/2016 (HomeAway Review)
"Wonderful getaway! Loved the coziness! We wished there was more furniture or outdoor accommodations. It was August and very warm out. We wanted to sit outside but there was no where but the steps or a very old picnic table.(Not cozy) Also, note to future renters: The house has been stained and does not look like the picture. We drove by the house several times not recognizing it because we were looking for the house in the picture. It would be helpful to put the address on a post or something at the road. I couldn't see the house numbers from the road. Lastly, I know you have no control over this but it doesn't seem fair we can't use the pool in the summer. I had three children who wanted to but we ended up playing in the river. No big deal but I wished we had the option. Other than that, we felt it was enjoyable and would like to stay again." - Sheila D., 09/21/2016 (HomeAway Review)
"What a great place for a group of cousins to getaway and have some girl time! We enjoyed the quiet location, a couple of chick-flicks on your big TV and a trip into Leavenworth for massages and wine tasting. Thanks - we'll definitely be back!" - Lynette C., 06/06/2016 (HomeAway Review)
Can't wait for Cruisin' Cousin Weekend 2.0! See you next year!
"Janine is wonderful to work with and does an excellent job of keeping the cabin clean, cozy & well stocked! It is in a great location! There is lots of space & the cabin is decor is welcoming. We love the coffee set up & there is everything you need in the kitchen (& then some). The beds are comfortable & the Jacuzzi is divine! We loved sitting around the fireplace in the evening and played games at the table during the day when we were home. We loved walking down to the river & enjoyed the swings at the park. You must visit the Plain Hardware Store during your stay and of course, make your way to Leavenworth. We love the Cup & Kettle, Kris Kringle and the Munchen Haus for a delicious pretzel or sausage and a cold pint of beer. This time we skied at Mission Ridge (Stevens Pass last trip) and it was wonderful! The antique shops in Cashmere are fun as well. We can't wait to return!" - Tracey H., 04/05/2016 (HomeAway Review)
We were so happy to have you back and look forward to seeing you again the next time you visit your little village! Aloha!
"I echo much of the prior feedback. Extreme attention to detail, cozy cabin, and a great location! The house was decorated with christmas lights, stockings, and a christmas tree (great touch!). My family and I had an amazing visit packed with various adventures (snowmobile tour, dogsled tour, and horseback sleigh ride). It was a snowy and beautiful holiday and we would love to make a return trip in the coming years. Thank you for hosting and you have an amazing cabin!" - ivannse, Seattle, Washington, 01/04/2016 (HomeAway Review)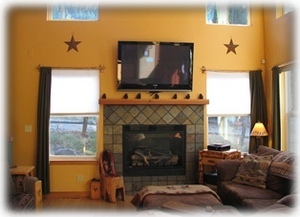 "" - Betsy E., , 07/12/2015 (VRconnection Guest Feedback)
"Such great attention to detail, well themed cozy cabin in beautiful Plain! Will definitely keep coming back with our young family! Been coming back to this cabin for winter and summer for years. Highly recommended for family getaway!!" - Anonymous, 03/27/2015 (HomeAway Review)
We always love it when we know you're coming and we look forward to your interesting fishing stories and the latest family addition! Can't wait for you to see how we've spruced up the place!
"My family stays here twice a year and we look forward to it each visit. It feels like OUR home. We spend 2-3 nights here each visit and spend most of our time indoors playing games and enjoying each other in this comfy cabin. We also enjoy the hot tub, walks to the park in the Ponderosa Community, fishing at the lake, and taking day trips into Leavenworth. I love the decor of the canin and the way it makes me feel each time I pull into the driveway. I highly recommend staying here!" - Heather C., 03/22/2015 (HomeAway Review)
We always enjoy hearing about your exciting family adventures! Can't wait to see you again this summer!
"We stayed late February of 2014 & it was just perfect. Cozy, comfortable & beautiful inside & out. We truly enjoyed our stay. The snow was fun to walk around in outside our door! The cabin is just lovely! So many personal touches that made it delightful!" - janette s., 03/18/2015 (HomeAway Review)
We're so glad you enjoyed your stay. We look forward to your return visit!
"I went for a much needed get-a-way after a few rough emotional years. The four days there were restorative...a true blessing. Everything about the home shouts \" - Debbie S., 03/18/2015 (HomeAway Review)
You are welcome back anytime! We are so glad to hear that you had such an enjoyable trip. Be well and we will see you soon at Just Plain Getaway!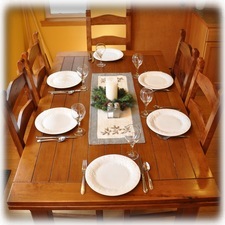 "We had a fabulous time. The cabin was clean, comfortable and relaxing. Our large family was very comfortable and happy enjoying our family reunion. Floating the river was a highlight. Outside decks were a great and inviting. I would highly recommend this rental and look forward coming back soon. " - Jay H., Mukilteo, WA, 08/11/2014 (VRconnection Guest Feedback)
"We had a much needed unwinding time at your mountain retreat. So beautifully decorated & warm colors & inviting furniture. The plentiful snow was a bonus for us. Thank you for sharing your piece of heaven with us! We felt right at home in yours! " - Janette S., stanwood, wa, 02/27/2014 (VRconnection Guest Feedback)
"Our trip was awesome and the place seemed to have everything you could think of to have a great weekend. The cabin was nice cozy and very relaxing. I would recommend this place to all of my friends. " - Santos G., Everett, WA, 08/05/2013 (VRconnection Guest Feedback)
"Everything was so clean and beautiful! We had an amazing time, and were so refreshed when we left! Blessings to you!" - Kathlyn S., Olympia, WA, 04/16/2013 (VRconnection Guest Feedback)
"This is a wonderful rental and the owner is very helpful and responsive. During our stay, there were two families (4 adults & 5 kids) sharing the house and it's spacious enough that everyone was comfortable. Highlights for a larger group are that there a 3 full bathrooms, a big extendable dining table, and a kitchen that is well stocked with most any sort of cooking gear, plates & utensils you might need. (Staples are basic, but they did have a stock of basic seasonings as well as coffee, tea & hot chocolate.) I would highly recommend this to anyone looking for a comfortable spot to get away." - Kristen S., Redmond, WA, 03/18/2013 (HomeAway Review)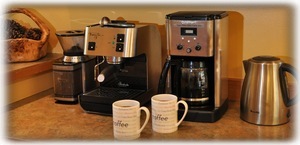 "beatutiful and comfortable retreat. more importantly, Janine (owner) is amazing. she totally bailed us out when we messed up the dates on our reservation." - Tom D., Chesterfield, MO, 07/26/2012 (VRconnection Guest Feedback)
"We had an awesome time. The kids all enjoyed themselves. Anything we needed was right at hand. Thanks so much! " - Corrie T., , 06/05/2012 (VRconnection Guest Feedback)
"We celebrated Thanksgiving at the cabin. 3 families with 3 babies. Both adults and babies immediately felt at home after a couple of hours. We enjoyed 3 fantastic days with great food, lots of games and quality time with the kids, fun in the snow and lazy relaxing time. Thank you so much for making our stay so memorable !" - Stijn V., SEATTLE, WA, 11/27/2011 (VRconnection Guest Feedback)
"Your cabin is beautiful and very comfortable. We had a wonderful time of rest and relaxation. It was a great retreat weekend and we'd definitely rent it again!" - Joyce P., Lynnwood, WA, 10/30/2011 (VRconnection Guest Feedback)
"Nothing "Plain" about it. We truly enjoyed our stay. Your home is warm and inviting. Thank you for sharing it with us." - Kate R., Wilsonville, OR, 03/25/2011 (VRconnection Guest Feedback)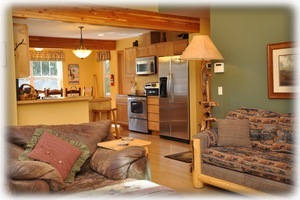 "We had such a great time in the snow... Your cabin is so warm and cozy and I really loved the master bedroom with my own bathroom and lanai. Super comfy beds and well equipped kitchen. My husband and son really enjoyed the hot tub after snowboarding all day up at Steven's Pass. Mahalo Nui Loa for sharing you little slice of heaven. " - Yvonne O., Haleiwa, HI, 03/13/2011 (VRconnection Guest Feedback)
"We Relaxed & Renewed! This is a wonderful place to wind-down..." - Mike &., Selah, WA, 02/16/2011 (VRconnection Guest Feedback)
"A much needed getaway for busy people. Thank you for providing a great getaway spot. Everything was perfect!" - Kalin E., EVERETT, WA, 01/30/2011 (VRconnection Guest Feedback)
"Thank you for the beautiful place... it was excellent when we showed up. You guys ROCK!" - Annette R., EVERETT,WA, 01/10/2011 (VRconnection Guest Feedback)
"The perfect spot to start off the New Year with our family visiting from Belgium. Thanks for sharing." - Johan D., Seattle, WA, 01/05/2011 (VRconnection Guest Feedback)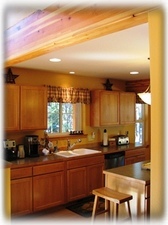 "Thank you for a wonderful white Christmas holiday! We're from South Africa so this was our first experience of snow - and we LOVED it! The house is stunningly decorated - and we loved the hot tub!" - Marian T., Tacoma, WA, 12/22/2010 (VRconnection Guest Feedback)
"Great cabin in a great location. Comfortably accommodated 5 adults, 3 teens and 2 kids. We will definitely be back again!" - Sean M., Bonney Lake, WA, 12/12/2010 (VRconnection Guest Feedback)
"We had a wonderful time at your cabin! It was lovely, cozy, and very comfortable. It was so nice to have a Christmas tree to enjoy during our stay! We all loved the teddy bear room - it was great for the kids to have such a special space to play games, watch movies, and enjoy the bunk beds. " - Kelly S., Burien, WA, 11/30/2010 (VRconnection Guest Feedback)
"Thank you for another fabulous stay at your rustic-though-modern shangrila. Beginning each day with the sounds of birds in the trees and ending them in the hot tub under the stars was just the reprieve we needed to rejuvinate prior to the upcoming holiday madness. See you next year!" - Elaine K., , 11/17/2010 (VRconnection Guest Feedback)
"We stayed at \" - Patsy C., Indiana, 10/06/2010 (HomeAway Review)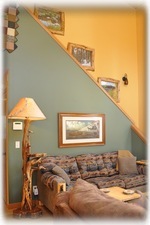 "We really enjoyed our time together at your wounderful property! We were all very pleased with the accomodations and would happily reccomend this to friends!! Thank you so much for providing everthing we could possibly need in the kitchen. It was much more than we expected! We would love to visit your outstanding property again sometime in the future. Our thanks again for a great week end!! " - Paula J., Spokane, Wa, 10/11/2009 (VRconnection Guest Feedback)
"Thanks so much! We had a great time. We feasted, fished, and frolicked. It was WONDERFUL..." - Jan C., Marysville, WA, 06/24/2009 (VRconnection Guest Feedback)
"Thank you so much for such a wonderful vacation! Your cabin is so beautiful, comfortable and kids friendly! I and my friends had a fantastic time." - Anna G., Seattle, WA, 01/04/2009 (VRconnection Guest Feedback)
"What an unforgettable Christmas vacation we had! Thank you for a beautiful home to stay in. We had such a great time! All of your extra touches.... GIANT cribbage board, a MOST EXCELLENT coffee bar! ...beautifully decorated tree, the list could go on and on. Thanks! " - Christian &., Kailua-Kona, HI, 12/27/2008 (VRconnection Guest Feedback)
"We had a fabulous time! This is a wonderful, quiet, and comfortable retreat! We went with another family (total of seven people) and had plenty of space! We will definitely be back!!!" - monica johnson-tomanka, Woodinville, WA, 09/01/2008 (HomeAway Review)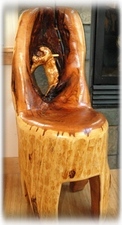 "We had a fabulous time! This is a wonderful, quiet, and comfortable retreat! We went with another family (total of seven people) and had plenty of space! We will definitely be back!!!" - monica johnson-tomanka, Woodinville, WA, 08/31/08(HomeAwayConnect Guestbook Entry)
"Downright Perfect!!! What a fabulous break from the hustle and bustle of the everyday, and what a gorgeous place....all the way around! Every amenity you could want, yet cozy and welcoming. We loved our daily walks and the river was so close. Thanks for making this our new favorite getaway!! Bless You Guys!!" - Laurie H., Shoreline, WA, 04/07/2008 (VRconnection Guest Feedback)
"May this always be a place where bodies rest, souls are restored, and hearts are re-captured. I know it was a time such as this for us. THANK YOU." - Jan L., Everett, WA, 03/16/2008 (VRconnection Guest Feedback)
"Wonderful Cabin -- Nice towels and GREAT decorations -- We loved the whole place! Good Time VACATION..." - Gaylen W., Sequim, WA, 03/03/2008 (VRconnection Guest Feedback)
"What a great place! We had such an awesome time. Great place for kids and adults. Had all the amenities..really enjoyed the hot tub. We will be back. " - Shari M., Sedro-Woolley, WA, 02/18/2008 (VRconnection Guest Feedback)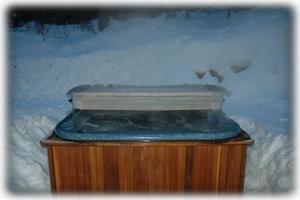 "We had a wonderful time at your welcoming & cozy cabin. Thank you for helping us make some great memories." - Ryan R., Mill Creek, WA, 02/14/2008 (VRconnection Guest Feedback)
"Thank you so much for providing such a fantastic home! Our winter retreat was warm, fun, and comfortable. From the youngest to the oldest... THANK YOU... Your home is wonderful." - Linda I., Lynnwood, WA, 01/13/2008 (VRconnection Guest Feedback)
"We look forward to spending our special family time in your wonderful Chalet! The snow was magnificent... we definitely had a white Christmas... enjoyed the extra personal touches throughout the house." - Gwen G., Fox Island, WA, 12/26/2007 (VRconnection Guest Feedback)
"Thank you very much for all the thoughful touches throughout the cabin -- we had a very enjoyable time... we'll recommend this getaway to friends and we'll be back ourselves!" - Katya M., 803 Edison St SE,Ol, 12/19/2007 (VRconnection Guest Feedback)
"We had a GREAT time. We wish we would have "booked" a longer stay. What a great area... Thanks for the use of your wonderful and & great decor. " - Lynn C., Puyallup, WA, 12/16/2007 (VRconnection Guest Feedback)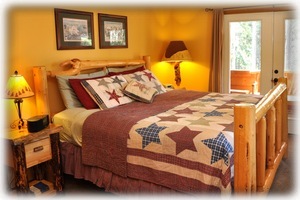 "Our Thanksgiving holiday was just perfect! Thank you for all the lovely touches that made our stay special.Your home was warm, clean and cozy and your community was friendly, especially the great folks at the Plain Hardware Store! We hope to stay again soon. The Faker, Lind and O'leary Families" - C Faker, Gig Harbor WA, 12/04/2007 (HomeAway Review)
"Our Thanksgiving holiday was just perfect! Thank you for all the lovely touches that made our stay special.Your home was warm, clean and cozy and your community was friendly, especially the great folks at the Plain Hardware Store! We hope to stay again soon. The Faker, Lind and O'leary Families" - C Faker, Gig Harbor WA, 12/04/07(HomeAwayConnect Guestbook Entry)
"Our biggest impression was just how welcoming & clean your cabin was: heat on, christmas tree lit, lemon-drops out, hot tub a-waiting. Everything was PERFECT!" - David W., Lynnwood, WA, 11/21/2007 (VRconnection Guest Feedback)
"Had a great time. The place is decorated wonderfully. You have a good eye for detail... everything looked great. Looking forward to doing it again sometime. Thanks for everything. " - Keasey &., Everett, WA, 09/21/2007 (VRconnection Guest Feedback)
"We had a wonderful time! You have decorated beautifully; very cozy and comfortable. Love the beds! Thank You." - John O., Sammamish, WA, 09/01/2007 (VRconnection Guest Feedback)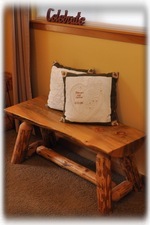 "You have done an outstanding job with this cabin :) You thought of every detail and more. We had such a wonderful time, we will be sure to come back again VERY soon!" - Elaine &., Snohomish, WA, 07/29/2007 (VRconnection Guest Feedback)
"...Thank you for letting us use your cabin - we had a fantastic time, and loved the accommodations! ... the coffee bar was a lifesaver! :-) " - Jeremy C., Tigard, OR, 07/15/2007 (VRconnection Guest Feedback)
"Thank you so much for letting us stay at this GORGEOUS cabin! We had an absolute blast and are so glad we did this. The beds were so comfy :) Thanks again." - Laurie M., Bothell, WA, 07/09/2007 (VRconnection Guest Feedback)
"The cabin is staged beautifully. I's so glad I found you on the internet. Our family retreat was better than ever and we will visit your cabin again." - Dee C., Maple Valley, WA, 07/06/2007 (VRconnection Guest Feedback)
"Just magical. Amazing decor, setting and weather! This is God's country! We will be back!" - Kacy K., Sammamish, WA, 05/28/2007 (VRconnection Guest Feedback)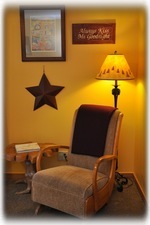 "We had a fabulous time at your beautiful cabin...Your home is so peaceful and we feel blessed to have been able to enjoy it. Thank you for being so accommodating!!! " - Angela &., Kent, WA, 05/23/2007 (VRconnection Guest Feedback)
"We had a relaxing time and enjoyed the games, park and the darling town of Plain... And we will be back for future visits." - Lynette C., Bellingham, WA, 04/15/2007 (VRconnection Guest Feedback)