Waikoloa Beach Resort, Big Island, Hawaii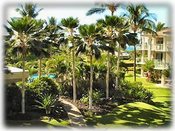 Upscale Fully Remodeled Partial Ocean View Luxury Condo
2 bedroom, 2 bathroom condo
You'll find paradise in Waikoloa! Stay in this luxurious, private, end unit, two bedroom, two bath condominium on the second floor with extended bedroom floor plan, overlooking the pool with views out...
Monterey, California


Right in Monterey! Sunny, Spa, Fireplace, Close to Everything!
2 bedroom, 1.5 bathroom home
The location of the house is great, right in the sunbelt of Monterey. We are five minutes from the beach, Old Fisherman's Wharf, and close to Cannery Row. We are ten minutes from Carmel and Pebble Bea...