Destin, Florida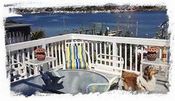 Destin Harbor Beauty
2 bedroom, 2 bathroom townhome
It all starts with the spectacular views of 'America's Luckiest Little Fishing Village'. Our townhouse is directly on the water, providing awesome vistas day and night. From our spacious ...
Truckee/Tahoe Donner, California


Beautiful Tahoe-Donner Home with Large Great Room and Access to Great Amenities
3 bedroom, 2 bathroom home
Our beautiful, Tahoe-Donner home in the foothills above the town of Truckee features a large "great-room", perfect for entertaining, and a host of amenities that will make your stay in the Lake Tahoe ...