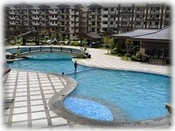 Vacation Rental Photos
Kitchen
Living Are...
Living Are...
Dining Are...
Photo 6
Bedroom
Bathroom
Photo 9
Fully Furnished Condo Unit W Amazing Facilities
Asia/Philippines/Taguig Vacation Rental
2 bedroom, 1 bath vacation condo sleeps 4
Fully furnished: automatic washing machine,aircon,refrigerator,TV,industrial fans, gas stove, microwave, rice cooker, salsa set, dining table, single size bed and queen size bed, etc.



Special Features of this Vacation Rental




Pets Allowed
Smoking Allowed
Handicapped Accessible
High Speed Internet




Amenities of this Vacation Rental


Great facilities and amenities! Relax, enjoy, and have fun to your heart's content. At Rosewood Pointe, more than half of the total land area is dedicated to open spaces like gardens and the koi pond. That's 8,000 sqm meters of amenities, the largest... (more)



Amenities of the Resort/Surrounding Community


Coffee shop, malls, market, fast food



Rate Information for this Vacation Rental




Monthly
Min Stay
$800
1 month
For lon term lease PHP25,000/month or $555/month including dues, excluding electricity and water For short term lease, PHP36,000/month or $800/month including dues, water, and electricity
All rates subject to change without notice. Please confirm with owner.




3 Month Availability Snapshot for this Vacation Rental




Property owner has disabled their availability calendar. Please inquire about availability.