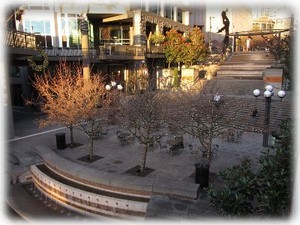 "Loved this property. It was exactly as advertised. Checking in and out was easy. Extra pillows and blankets to shampoo was provided. Debra was quick to answer all questions. Convenient location." - Susan O., 05/26/2018 (VRBO Review)
"We will book again:-)" - maria m., 05/01/2018 (VRBO Review)
"The unit met our expectations plus more. Great client service. Great location. Will highly recommend VRBO site to others." - Darlene S., 04/28/2018 (VRBO Review)
"Very nice. Condo is larger than it appears in the pictures. Plenty of room. Well maintained building. Just what the doctor ordered." - Steven J., 04/17/2018 (VRBO Review)
"Excellent directions from the owner of the condo. The furnishing were exactly as shown in the pictures. There were some extra amenities such as ground coffee and spices." - susan j., Stevensville, Michigan, 04/10/2018 (VRBO Review)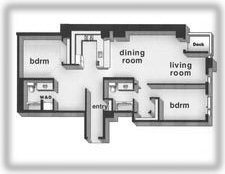 "Condo has everything you need. Full kitchen, washer and dryer is a must with kids. Market in lower level for your groceries or short walk to target. Short walk to pike place, aquarium, shops and restaurants. Would definitely stay here again when we come back for a Seattle weekend!" - nic K., 03/30/2018 (VRBO Review)
"Had a great time at this VRBO! The location is awesome with lots of restaurants, the aquarium, and the large ferris wheel nearby. Debra was super responsive for any questions/concerns we had. i highly recommend this spot!" - Keila L., 03/22/2018 (VRBO Review)
"Debra at Picture Properties was a pleasure to deal with. Very helpful before, during and after booking. Check-in instructions were very detailed and everything went exactly as stated. The apartment was very spacious and exceptionally clean. It was nicely furnished and the kitchen was very well equipped. There wasn't anything we needed during our 5 night stay that wasn't provided. The location is excellent. Very close to downtown shops, Pike Place Market, and the waterfront. Overall, we would highly recommend this rental. Linda & Bruce Victoria, BC" - Linda H., 12/15/2017 (VRBO Review)
"Condo was very clean, well furnished and spacious. Key pick up and drop off with concierge was very convenient." - Laurie P., 11/26/2017 (VRBO Review)
"We really enjoyed our stay at Harbor Steps. The location is fantastic to walk to Pike's Place and the pier and central to many restaurants. We have a 2 year old and it was so helpful to have the pack n play and booster already in the unit, along with the plastic cups and plates, and we felt like we didn't have to pack as much. The unit is very spacious and we were surprised by how quiet it was even though it was right next to the elevator. We would definitely stay here again. My only complaint is how tight the parking is in the parking garage but there's nothing you can change about that, it is what it is." - Alice H., 11/19/2017 (VRBO Review)
So glad another guest enjoyed their stay with Picture Properties at Harbor Steps. To clarify, there are some tight corners to get around in the NE tower parking garage, but the spots themselves are pretty good size. We navigate through there with both a full size SUV and a full size pick up truck all the time. The clearance height is 6'5. Let us know if you have any questions. Thanks! Debra, Picture Properties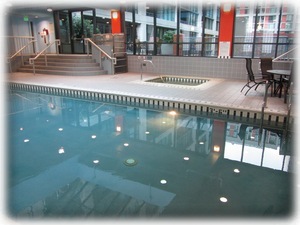 "Late flight meant late arrival (nearly midnight) but checking in was smooth and easy for the tired and bleary-eyed. Having Lecosho and their late-night menu literally steps away was convenient and the perfect start to our vacation. But even before that, the email exchanges with Debra at Picture Properties before we left home were thoroughly detailed and extremely helpful in terms of the process (it was our first time using VRBO), logistics and tips for enjoying the area. She even warned us about the lack of a/c (which wasn't an issue in October) and that ongoing construction might be noisy. The apartment was as huge and luxurious as advertised. The building was modern and secure ... with a basketball court! And the location was perfect for exploring without a rental car." - Jon Y., 11/15/2017 (VRBO Review)
"Great location and walking distance to some amazing shopping and food." - shannon h., 11/14/2017 (VRBO Review)
"Blocks to major tourist attractions. Information pamphlets in unit. Clean property. Unexpected extras-umbrellas, tea, and blankets" - Judy M., 10/23/2017 (VRBO Review)
"My sons, wives and I spent a wonderful long weekend here. We parked the car and never moved it! Between walkability and Uber we saw ALL the sites and enjoyed the ability to all be together and yet privacy when needed. Highly recommend this property." - Annemarie M., Sequim, WA, 10/02/2017 (VRBO Review)
"Our stay was perfect! Wonderful condo and location!" - Tracy L., 10/01/2017 (VRBO Review)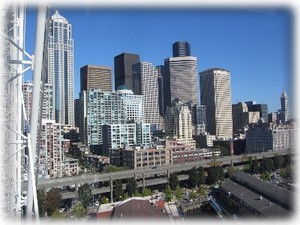 "The condo we stayed in at Harbor Steps was lovely. And it's central location made it unnecessary to have a rental car in Seattle. The condo was spacious and provided everything we needed. Plus, the location of a Starbucks on the street level was convenient for a confesses caffeine addict. When a issue came up for us, it was addressed quickly and to our satisfaction. We would definitely stay here again." - Carol S., 09/27/2017 (VRBO Review)
"Clean rooms and had amazing positioning. Everything is so close you could practically walk to it." - Bryan G., 09/05/2017 (VRBO Review)
"Great spot for getting around the sites of Seattle. It provides a larger space than a hotel suite with the ability to cook and do some laundry if necessary. It can be a little uncomfortable in the extreme heat of summer as there is no AC, but windows open and floor fans help provide relief." - Terry B., Tucson, 08/04/2017 (VRBO Review)
"The location was great and provided easy access to many different locations in downtown Seattle. The amenities in the apartment made life both comfortable and easy. It was a lovely place to stay and well worth the price!" - indy T., 08/01/2017 (VRBO Review)
"An amazing large apartment in downtown Seattle! Apartment was clean and plenty of room for five! The manager was exceptionally organized and wonderful to work with!" - Michael M., 07/31/2017 (VRBO Review)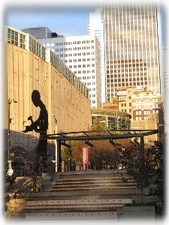 "Love the property enjoyed the view. love the location of the Starbucks that it's underneath the building. Very convenient and location close to everything. Debra extremely helpful and very friendly and organized." - Adiba K., 07/16/2017 (VRBO Review)
"The place was clean and worked well. Only problems were there wasn't a view of the water and the construction was loud and terrible every morning." - Tammie H., 06/29/2017 (VRBO Review)
Unfortunately, there is construction often in Seattle and this guest's stay just wasn't timed right, sorry to say. Most of the time, it's not too bothersome luckily. Also, not sure why she thought we had a water view here as this unit does not have a water view. None of our photos show a water view either. If a water view is important to you, we have other Harbor Steps options. Let us know if you have any questions! Thanks, Debra, Picture Properties
"The perfect location. 2 blocks from the water and 1 block from the light rail. Spacious and would definitely go back." - judy F., 06/26/2017 (VRBO Review)
"In town with 5 adult family members for an event. Clean, modern and very spacious site with city views. Great location for exploring all that Seattle has to see. Easy walk to many sites. The property and management are great! Would highly recommend and plan to stay again next time in town." - Scott E., 06/22/2017 (VRBO Review)
"Book, instructions, and questions were answered promptly and with a high level of professionalism. Great location and plenty of space for six guests." - Sydney A., Washington, 05/24/2017 (VRBO Review)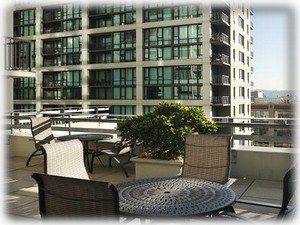 "Great Location. Very comfortable. Great views. Slept 5 comfortably. Best location in DT Seattle!" - Julie B., 04/10/2017 (VRBO Review)
"This little studio had everything we needed for a great weekend getaway. It was within easy walking distance of so many things to see and do. The bed was comfy, plenty of hot water for showering, secure building, quiet area. We enjoyed our stay." - Colette C., 03/06/2017 (VRBO Review)
Glad we have more guests who loved their Harbor Steps experience. It should be noted that we moved from the studio to the large 2-bedroom we are currently in beginning of Mar 2017. Current listing (and photos) accurately describe the 2-bedroom unit. Let us know if you have any questions. Thanks! Debra, Picture Properties
"Great property can't wait until our next visit." - Carolyn C., 03/05/2017 (VRBO Review)
"Nice except for the scaffolding covering the windows." - Moira N., 02/27/2017 (VRBO Review)
Please note - this review is for our studio we are now completely moved out of. This was our last guest for that smaller unit. The scaffolding was temporary, of course, as they were doing maintenance on the outside of the building, preparing for a new coat of paint. Sorry this work was during a guest stay, but it was out of our control.
"Crazy how close we are to EVERYTHING! We would stay here every time No hesitation Was very clean Access was very good And the facility is huge with great amenities Great time and great place" - Jason D., 02/13/2017 (VRBO Review)
Thanks Jason!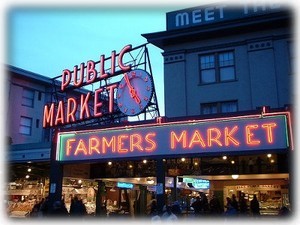 "This is a great place to stay. Great location close to Pike Place Market and the Waterfront and easy walking to other places of interest. Would definitely recommend to others and stay here again." - Mark W., 01/17/2017 (VRBO Review)
"Perfect property with a super location." - Carolyn C., 12/22/2016 (VRBO Review)
"Contact person exceptional. All properties exactly as addressed. Thanks, 5 stars." - William B., 12/19/2016 (VRBO Review)
"Very nice, clean condo. Great location. We love downtown and Pikes Place, this condo is just a couple block from Pikes. Across the street from the art museum. Great place, location we will definetly stay here next time we visit Seattle." - Nicole H., 11/18/2016 (VRBO Review)
"Wonderful Condo in an excellent location. Very clean, bed was comfortable. Walking distance to so many shops, cafes, & attractions--we never even rented a car! The few times (maybe 2?) that we couldn't walk we used Uber! Would love to come back in the Summer. Highly recommend." - Hayley A., Houston, Tx, 10/26/2016 (VRBO Review)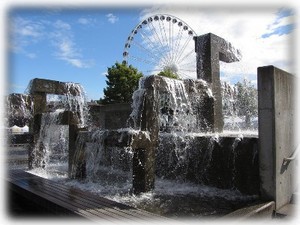 "Spent 3 nights and enjoyed them. Location was great for all Seattle has to offer and good people watching from balcony. Unit was cozy, clean, comfortable for 2." - VCicky Y., 10/24/2016 (VRBO Review)
Please note that this review was for the studio apartment at Harbor Steps that we moved from in March 2017.
"We enjoyed our stay in this lovely large studio, close to public transportation, interesting nearby neighborhoods to explore, lots of restaurants, great cafe around the corner for morning coffee and pastry. We were happy to get back to the apt. after our outings since it was so spacious, quiet, comfortable and well furnished." - Priscilla D., 10/16/2016 (VRBO Review)
Please note that this review was for the studio apartment at Harbor Steps that we moved from in March 2017.
"Never being to Seattle before – we did not know what area to stay in but this apartment near pike place was perfect! We woke up every morning and walked to the market for fresh fruit, pastries and coffee (super close!) We did not rent a car and it was a wonderful decision. There are so many other ways to get around Seattle. The apartment was very clean and the perfect size with all the amenities you could want. ( I am a super light sleeper so I packed a white noise machine and earplugs which I used some nights because of a little outside noise but my husband slept like a rock needing neither.) Can't say enough about the apartment, it's condition & the location. We kept saying all week we really picked the perfect spot & apartment. It really helped make our vacation. If we go back we would get the same one - and we are picky people. :) I have already recommended it to a friend who's going next year. And anytime we had any little question - we emailed Debra our contact person and she emailed back ASAP - her customer service was wonderful. We just left Friday and Sunday we already got the notice that our deposit was refunded. Thanks for the great memories!" - Lisa K., 10/03/2016 (VRBO Review)
"Very convenient to downtown spots. Amiable concierges. Minor issues promptly resolved. Only negative would be a poor mattress." - james w., 09/20/2016 (VRBO Review)
Glad this guest enjoyed his stay. A mattress is highly personal, and most of our guests comment that our beds are very comfortable. Please read through our reviews for all our units (I'm happy to provide VRBO #'s). We buy plush, to plush firm mattresses. Maybe this guest preferred quite a soft mattress? Please let us know if you have any questions. Thanks! Debra, Picture Properties
"We stayed in this unit from 9/9-9/12 2016. The unit is clean and the owners are very easy to work with. It's in a great location that makes it easy to walk everywhere. It's noisy and very bright in the courtyard area and the blinds don't close all the way (they don't really work well) so it might be difficult for some people to sleep. However, we thoroughly enjoyed our stay." - Jennifer Gleason, 09/12/2016 (VRBO Review)
So glad this guest enjoyed their stay. The blinds should work perfectly. If they were not functioning properly, we wish this guest would have let us know so we could have had Harbor Steps maintenance come and repair them. We'll take care of that. Again, it's crucial that guests make us aware of any issues during their stay so that we can address them promptly. Thanks!! Debra, Picture Properties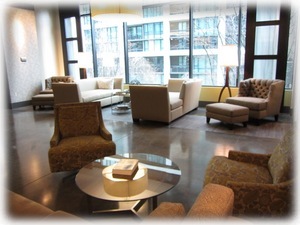 "This perfectly located, easily accessible and well equipped studio is in ideal spot when visiting Seattle. It is well maintained, offers everything you need in a kitchen, with great service, and is perfect for 2. But if you have more people traveling things will get unexpectedly less comfortable. Even though it offers convenient air bed, we did expect something like pull-out sofa, etc. The air bed will occupy significant space making movement in the studio uncomfortable. While the air bed is easy to use and is quick to inflate and deflate I don't think it is specified in the room description that 3d and 4th persons are accommodated that way. If it is then my apologies." - Greg K., 08/13/2016 (VRBO Review)
We are so happy another guest enjoyed their stay with Picture Properties. We do advertise a queen airbed with linens both on our listing and in our emailed arrival info. We do not advertise (or utilize) sleeper sofas since they are typically not that comfortable, and also cumbersome to set up and take down daily. With the airbed, it's easy to just lean it up against a wall during the day when not in use and they are quite comfortable. The unit is 610 sq ft, so there is plenty of space for it. But yes, we'd always recommend a studio for 2 guests comfortably, and a larger unit (we have five 2-bedrooms right now at Harbor Steps) for groups larger than 2. Please let us know if you have any questions. Thanks! Debra, Picture Properties
"Our stay at this property and experience with the owner could not have been better. Very professional and prompt communication from booking all the way through check-out. Property is exactly as described. Received an email notice the day we checked out indicating that our security deposit was being processed for refund. That's customer service at its finest. If in the Seattle area, there really is no reason to stay any other place. Thank you for helping make our stay memorable. We will definitely be back!!" - Todd H., 08/01/2016 (VRBO Review)
"We stayed in our studio apt for 5 nights while visiting our son who lives in the area. We had no problems with our room and it was exactly as shown in the photos. Very comfortable bed. Didn't cook, but kitchen had what we needed for picnics in the downstairs garden area. Easy walk to everything. Would definitely stay here again. Left our bags at checkout with the concierge and spent a few more hours in the city. Took light rail from Seatac (get off at University) and it is just a 2 block walk. Our son has a car and would pick us up at the Four Seasons Hotel just a block away. There is a turn around area there that makes for a convenient spot for drop off/pick up. You do not need a car for local sightseeing as you can walk or use the public system. We left town a couple of times so a car was nice for those trips. Port Townsend/Fort Warden Park makes for a nice day trip (Pippas Tea Shop is a relaxing retreat and we ate dinner at Sirens) as does getting out to West Seattle and the Alki Beach area (lots of great photo spots and we had a delicious seafood meal at Duke's). Von's restaurant next door had great food and drinks. Fonte Coffee up the street was amazing (try the Rose Water Latte). Pikes Place is just a couple of blocks away. Pioneer Square and Westlake (for the Monorail) are, at most, an easy 15 minute walk. The Klondike Museum in Pioneer Square is not to be missed. The same goes for the Chihuly exhibit at Seattle Center. Take time to visit the Public Library...it is a gem and just up the street. We would go early to Pikes Market, get breakfast treats and fruit, and return to the garden downstairs to enjoy a quiet breakfast before sightseeing. We did the same with wine, cheese and meats one night before going to the Seattle Symphony. TIP: Go early to the market for breakfast food...try to be there by 8am. It gets crowded by 9am and the lines are long for the good stalls (Piroshky, Piroshky is truly amazing). Starbucks...forget trying to get in later in the day. Fonte Coffee, mentioned above, was a great local place (and has food and wine). Starbucks is everywhere, Fonte's is local!" - monique m., 07/21/2016 (VRBO Review)
"We stayed here for the Rock and Roll Marathon and it was a perfect location. We walked to the Space Needle for the start and walked back from the finish at Centrylink Field. Property was clean and centrally located just 2 blocks to the Gum Wall, Market, and Waterfront. Public transportation from the airport drops you off a couple blocks away from the property. Because the location was so convo enemy we didn't need any additional transportation or need to use the public bus. Our family of 4 (2 adults and 2 kids) fit comfortably and we enjoyed sitting on the balcony relaxing. We look forward to coming back to Seattle and staying here again." - Patrick, Denver Colorado, 07/04/2016 (VRBO Review)
"What an excellent stay in the studio at Harbor Steps! The location was just what I was looking for on this trip. Right by the SAM (Seattle Art Museum) and a short walk to Pike Place Market. I have stayed downtown at the Mayflower Hotel and at the Fairmont Olympic hotel but wanted a kitchen this time. This worked out great. The unit has been updated and was is good condition. Suave shampoo and conditioner were provided if you didn't bring your own. We were not there during a super hot time of year so the lack of ac was not a huge issue but did use the fan provided. Many options to choose from to eat were super close. Below you one floor is Lecosho which is rated #44 on TripAdvisor. Had a sandwich and soup at lunch that was good. Across from that is a West Edge Deli that you can see people coming and going into from your balcony and windows. They have Boar's head meats and a variety of good options to pick a few things up. Above that you can see from your window is a Thia resturant that we did not try. Loved people watching from the balcony and inside with the big windows. Just be aware that if you have your blinds open, people can see in just as well as you can see out. Used the washer and dryer across the hall and appreciated having that available. Debra was a delight to work with and very professional! We had a late flight out so left our bags in a locked room at the front desk until around 5:30 pm with no problems at all. Would recommend this unit!" - Lisa H., 07/03/2016 (VRBO Review)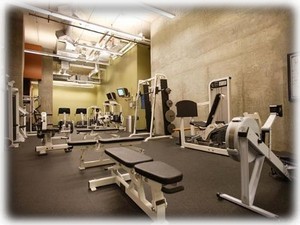 "Loved this property and the location. We never used a car and walked everywhere. This location makes that easy. Took the link train from the airport and back. Debra was easy to work with and very accessible. Highly recommend this property and manager!" - Judy K., 05/20/2016 (VRBO Review)
"Perfect location to see downtown Seattle. Public transportation, shopping and great dining all close by. The appartment is clean and comfortable." - Rodney A., 03/31/2016 (VRBO Review)
"Great room, well decorated and comfortable" - cfreer, LI, 01/19/2016 (VRBO Review)
"Harbor Steps was wonderful! It was a huge studio, very clean and nicely decorated! It was within walking distance to everything. Had a beautiful balcony with a view of the steps, the Ferris wheel and the water. Everything was absolutely perfect including the Harbor Steps staff and the very nice lady that helped us schedule this! Deposit was refunded in a timely manner with no work on my end. Thanks for a wonderful, PERFECT stay!!!!!!!" - Marie S., 01/04/2016 (VRBO Review)
"My wife and I rented this well appointed and clean studio for Seahawks game weekend. The location is perfect. Close to the market and shopping, everything we needed was a short walk. Century Link stadium was a 15 walk. What impressed me most of all was Debra's outstanding customer service. We had experienced a billing issue with VRBO, but Debra did everything she could to sort it out. It's because of that, that I'm rating this apartment as a 5 star. I'll be keeping Harbour Steps at the top of our list as a place to stay the next time we pop into Seattle for a visit. Norb," - Norb W, Lethbridge, Alberta, Canada, 11/18/2015 (VRBO Review)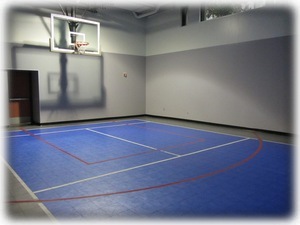 "I was very happy with my rental of this unit at Harbor Steps in downtown Seattle. The room was very clean, well-appointed, and easy to access. It was also close to attractions and extremely convenient to my work downtown. The staff was very friendly and getting the keys despite the late hour of arrival was a breeze. I would not hesitate to recommend this to anyone! A wonderful unit and a great stay!" - Russell B., Tampa, FL, 11/17/2015 (VRBO Review)
"Our trip to Seattle was outstanding and this is in large part due to the quality of this location. Debra has created a beautiful space that has everything you can think of to ensure your comfort. It is close by to so many Seattle staples, clean and spacious. We cannot say enough good things about our experience!" - Lauren R., 10/16/2015 (VRBO Review)
"We enjoyed our stay at this property very much. The studio was nicely appointed and the location was ideal. Highly recommended." - Daniel C., 10/06/2015 (VRBO Review)
"Very very nice and clean and well decorated studio. Had lots of room and enjoyed both water, great wheel and scenic views right off our roomie deck. Very easy and quick access to the street and courtyard...simply marvelous \uD83D\uDE0A" - RV, La Quinta CA, 08/17/2015 (VRBO Review)
"Great VRBO owner and offerings. Everything was as described. This property has a fantastic location for the great restaurants and downtown activities near Pike Place Market. Easy 1.2 mile walk to Seattle Center. The Link train stop is 3 blocks from the property but up/down hill. We recommend Von's Gastro Pub which is 50 feet from the room - we had great food experiences there and the staff was very professional. We took the Link train from the airport ($3) and skipped the rental car. Easy to hail cabs on 1st Ave. $7 fair plus tip to get to the Space Needle. $22 fair plus tip to get to the Locks / Botanical Garden. Cabs turned out to be less expensive than the Uber Black Cars in Seattle most of the time." - Todd, Ladera Ranch, CA, 08/05/2015 (VRBO Review)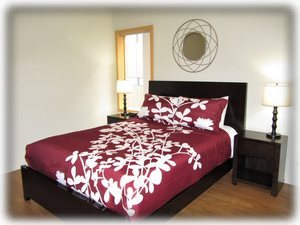 "My husband and I had an excellent vacation in Seattle and enjoyed our stay at Harbor Steps. In walking distance to the many attractions and restaurants and to the ferry piers, Harbor Steps is a perfect location. We give the Harbor Steps location a 5 rating. The outstanding customer service provided by Debra, the representative who worked with us throughout our reservation process and trip, deserves a 5 rating as well. She was prompt, attentiveness and helpful. Room accomodations were overall very good. The studio apartment was spacious and very clean with an updated and well-stocked kitchen. We did not give a 5 overall rating for the following reasons: No air conditioning. We were not aware of this until after we arrived. We then reviewed description and had missed it --it is listed at very end of room description paired with information about heat. Not prominently mentioned in our opinion. This being said, most times room was comfortable as it didn't get too hot until last day of our stay. Fan was helpful and we were permitted to open the windows but there are no screens in the window or slider. We did open windows at certain times but we did have some bugs then in the apartment- this limited time we could open window. E.g. Didn't leave slider open while lights were on that would attract bugs. Decor is fine- would not describe it is as well- appointed. Overall though, we were quite satisfied with our stay at Harbor Steps." - Marianne B., Havertown PA, 07/20/2015 (VRBO Review)
Glad this guest enjoyed their stay. We must say that we are quite surprised that they were not aware that this unit did not include AC. VRBO doesn't offer a place to put No AC. We state it in our rental agreement (that they were supposed to read, and did sign), and also in our detailed arrival info we send the week before the stay. It's also mentioned in several of our reviews. Really not sure how they missed it, so a bit frustrating to hear they were not aware until they arrived. Please know that 85% of Puget Sound area residences do NOT have AC. So having AC would be an exception, and not having it is more of the rule. Sometimes hard for people from other parts of the country to understand, but we truly don't usually need it here. As far as the unit not being well-appointed, all we can say is that we typically get the opposite comment, that the unit is quite well-appointed. If you are looking for anything in particular - just ask and chances are it's there!! Thanks! Debra, Picture Properties
"We recently stayed at Harbor Steps and thoroughly enjoyed our stay. We were close to all amenities, attractions, harbour and had a great view. We would certainly recommend staying here as you have all the comforts of home as well as proximity to everything. Enjoyed the city, the weather and the fact that we did not need to rent a vehicle!" - Lise G., Canada, 07/07/2015 (VRBO Review)
"Great location, nice and clean, stocked with essentials. Comfortable and nice people? We even used the hot tub and sauna, nice and clean." - Jon V., 06/24/2015 (VRBO Review)
Glad this guest had a great stay. Pretty sure that the ? after nice people was a typo!! Everyone at Harbor Steps (and us at Picture Properties) are wonderful and accommodating! Not sure why not 5-stars, but had they let us know about anything during their stay that was an issue, we would have made it right immediately! Please let us know if you have any questions! Debra
"My husband and I had an excellent stay in Seattle! Harbor Steps was amazing and the perfect location for us. We wish we hadn't spent the money on the rental car as we were within walking distance from everything and taxis/Uber were available for the longer destinations. The unit was clean and well stocked with everything we could possibly need. Also, for being centrally located, it was extremely quiet for sleeping. Our friends and family were meeting in Seattle (from, literally, from all over the world) and all were staying within blocks of us. We were able to be to their buildings within minutes or meet at the local bar/restaurant for some extended hang-out times. It was perfect! I would highly recommend Harbor Steps for anyone who wants the perfect Seattle experience. (And Debra was awesome to work with!)" - Leslee S., Minneapolis, Minnesota USA, 06/23/2015 (VRBO Review)
"This was our first visit to Seattle and my husband and I wanted to stay downtown for the 3 days before our Alaska cruise. Harbor Steps was the perfect location for us; we didn't want to get a rental car and we were able to walk to many attractions. We especially enjoyed the 5 minute walk to Pike Place Market every day! Also within 15 minutes walking distance of the light rail and monorail, and to the state ferry for a ride to Bainbridge Island. For less money than most downtown hotels, this clean and comfortable studio condo provided a full kitchen, living room, bathroom, laundry facilities, and king size bed. Debra with Picture Properties was great to work with, excellent communications and prompt responses to my questions. We felt like it was a great value for us and would definitely stay here again." - Terri H., Southern Indiana, 06/19/2015 (VRBO Review)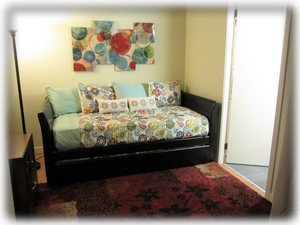 "We chose Harbor Steps primarily for its location. We wanted convenient access to downtown after debarking from an Alaska cruise. This was our first visit to Seattle. Our stay was a delight. We enjoyed Chihuly Glass museum, the Klondike museum, Volunteer Park, the ferry to Bainbridge Island and a Mariners/Yankees baseball game. Everything was easily accessible from Harbor Steps. Harbor Steps was a short ride from the ship terminal. Debra accommodated our request to drop our bags with the concierge and have an early checkin. The staff was very friendly and helpful. The studio was spacious and well supplied for our needs. We had breakfast in and all other meals out as we toured the city. We found the Harbor Steps amenities very useful. We used the fitness rooms and even enjoyed a few games of pool. We were close to everything downtown so walking was always a possibility. The best thing we did was go to the Westlake and King St stations to purchase senior and disabled passes for the transit system. This allowed us to ride all over the area for one dollar per trip (often round-trip because of the transfer time window). So we ranged from downtown to Capital Hill and Lake Union/Volunteer Park to SeaTac for minimal cost. The transit system is very, very good with respect to frequency of service and area coverage. Also, people and drivers were very friendly and helpful. Debra was always quickly responsive before and after our stay, even though we were out of touch during parts of our cruise. We would definitely consider returning to Harbor Steps in the future." - Marinus v., 06/09/2015 (VRBO Review)
"From booking to departure, Debra with Picture Properties was top-notch!! I appreciate her responsiveness even with a late night question. The apartment was located in close proximity to the market, easy walk of less than five mins, and about a 15 min walk to monorail to the space needle. Great location and apartment. The unit was wonderfully supplied and comfortable. It was the perfect getaway spot and HIGHLY recommend. Concierge was great with directions!!! Laundry facilites greatly appreciated." - Seattle Newbie, Alabama, 05/25/2015 (VRBO Review)
"Just returned from my stay at Harbor Steps. The Studio was very comfortable and the location was great for getting around the city if you do not have a car. The only thing that I saw that needs to be addressed is the slippery tub. Please put something down before someone falls." - Hoppi, Houaton Teas, 05/08/2015 (VRBO Review)
Rest assured, there are non-slip strips in the tub now. We have been putting them in all our Harbor Steps units for our guests' safety. Let us know if you have any questions. Thanks! Debra, Picture Properties
"Studio was clean and comfortable, concierge nice and helpful, perfect location within walking distance to everything, can't beat it!" - Andy, Gulf shores al, 04/28/2015 (VRBO Review)
"Just got back from a wonderful stay in Seattle! It was our first time visiting so I wasn't sure where to stay. We opted not to rent a car and the location ended up being perfect. Close to the light rail station and the monorail. The apartment was spacious and well furnished. My kids slept on the queen air mattress. Debra was very responsive to our requests and emails. I highly recommend Harbor Steps!" - susan w., 04/06/2015 (VRBO Review)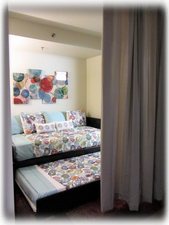 "Harbor Steps was the perfect base location for seeing the Seattle sights. The studio was perfect for two people and is fully equipped with all necessities. Breakfast was easy to prepare in the studio, and we either ate out or brought food back in the evenings. Most places we wanted to visit were within easy walking distance, but for those places further away, the bus and light rail is a mere three or four blocks. The view from the apartment was really nice. Not only does it look out over the beautiful steps and fountains, the Harbor and Seattle Great Wheel are right there also. Highly recommend! I would not hesitate to stay here again should I find myself back in Seattle." - M T., Minnesota, 03/18/2015 (VRBO Review)
"We enjoyed our stay much-the joining instructions seemed lengthy but it all made sense when we were there. The concierge staff were friendly and helpful when collecting keys. Considering the fab location, a big of noise is reasonable but with jet-lag coming from the UK, we weren't bothered much! It was awesome to go through Pike Place Market can cook the fresh fish and veggies-something a hotel would not cater for. The space was perfect for two and very clean. I would definitely recommend this place to a friend and would consider staying again in future." - Seattle Weekender, Essex, England , 10/19/2014 (VRBO Review)
"This was the perfect place to stay. It was our first time visiting Seattle and this was the best location to stay because it was walking distance to all of the tourist spots. It was very easy to find and get to from the light link rail from the airport. You do not need a car if you stay here as long as you plan on staying in the city. The studio was perfect for me and my husband. We would definitely stay here again if we visit again!" - Ali, Bakersfield, CA, 10/07/2014 (VRBO Review)
"Our family of four had a comfortable stay in this nice studio. Perfect location in the center of everything. We attended two Mariners games. The walk to/from Safeco Field wasn't bad, even for our 9-year old. We enjoyed Pike Place Market, rode the Monorail to the Seattle Center, and visited Chihuly Garden. Had great beer and an excellent lunch at Pike Brewing Co. We also drove out the Museum of Flight. We didn't use the pool, but we did use the free laundry facilities. Second rental with this property manager. Great service, prompt return of deposit. Would gladly recommend to others, especially families." - Christine C., far north idaho, 10/05/2014 (VRBO Review)
"For our second vacation in Seattle, we stayed downtown. You couldn't wish for a better location. Harbor Steps is just a couple of blocks from Pike Place Market, looks out on the Great Wheel, and has all the food joints, coffee shops & culture you could wish for, right on the doorstep. The apartment is very comfortably appointed, with lots of thoughtful touches. It quickly felt like home. You'll love it!" - Anonymous, 09/17/2014 (VRBO Review)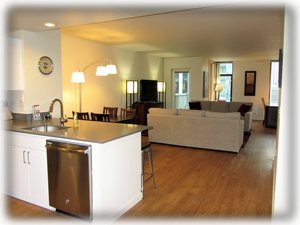 "Centrally located, walking distance to most everywhere including Safeco, Pike Place Market, etc... Nicely furnished suite, cable, Wi-Fi, kitchen. The only drawback was some traffic noise, and lack of A/C, but fan was on with balcony open and it cooled down at night. Would definitely stay there again." - Dave W., Vancouver, BC, 08/18/2014 (VRBO Review)
"We had a great time staying at Harbor Steps. Everyone was very nice and helpful as we checked in and also during the reservation process. The location was perfect. We could easily get to all the sites in Seattle. A short walk to the monorail to go to the space needle and Chihuly glass garden which was amazing. Great restaurants, Pikes Market, water taxis and Ferries all close by. We didn't rent a car and didn't need one. The room and kitchen worked out perfectly I would stay there again!" - UtahFriends, Utah, 08/12/2014 (VRBO Review)
"This rental was perfect for my travel party. The unit was VERY clean and a few blocks from the Pike Place Market. Instead of paying the ridiculous nightly rates for hotels in a similar location, take advantage of the full kitchen and buy fresh fish, veggies and pasta at Pike Place. Can't find what you're looking for at the market? Target is just around the corner. This unit is perfect for the traveler who loves fresh food and doesn't mind cooking for themselves. Safeco Field and Qwest Field are about a mile walk down 1st Street the Waterfront is also a few blocks away as well. The only downside to this unit is the external entrance. The 1st Street entrance is actually the sixth floor of the Southwest complex. You must enter the building directly above the unit. Walk down the sixth floor hallway. Take the stairs to the fifth floor before walking back to this unit. That may seem a bit confusing and really isn't that big of an issue. We would certainly recommend this rental unit to anyone looking to enjoy their stay in Seattle." - Wisco Traveler, Milwaukee, Wisconsin, 08/09/2014 (VRBO Review)
So happy another guest loved our apartment and the location. The access from 1st Ave is about a minute to 1 1/2 minutes walking. Like this guest said, you enter from 1st Ave into the SW tower on floor 6. We could have chosen the unit(s) on floor 6, but since everyone who enters the SW tower from 1st Ave would be walking past the apartment door, we decided that a few extra steps for a quieter place would be much better, and most of our guests agree. Also, the studios have the quickest access from 1st Ave over our other 5 units in the SW tower since you'd have to enter on floor 6, walk down the hall, then wait for the elevators to the other units. Please don't hesitate to ask us this or anything else. Thanks! Debra, Picture Properties
"We had a picture perfect stay in this roomy studio. Great location, easy access, well stocked, and comfy. Highly recommended!! We would absolutely stay here again if we visit Seattle." - Anne B., 07/22/2014 (VRBO Review)
"This unit is quite spacious and is shaped in a good configuration. You first enter the kitchen and dining area, then there is the living room area, with couch and armchair and TV, and the area with the bed is beyond that, slightly around a corner, so you are not always looking at the sleeping area, as is the case with some studio apartments. The complex has amenities such as a laundry room (right across the hall and NO charge for using it), a gym, pool and sauna, a library, and free Internet terminals in the lobby. The unit is very quiet. The location is excellent, right across the street from the Seattle Art Museum and two blocks from Pike Place Market, so it is easy to get food to go and cook in the unit and not have to go to restaurants, if you so desire. (Although there are good restaurants in the area.) You can walk down the harbor steps to the Elliott Bay waterfront. Pioneer Square is not far - about 7 blocks. If you want to visit some of the outlying areas, such as Fremont (self-styled Capital of the Universe) or Ballard or Capitol Hill, and don't have a car, it is easy to walk up to 3rd Avenue or up to Pike St. and a bit east, and get a bus. The Link light rail is an easy and inexpensive way to get to or from the airport. The station is right on University Street, where the unit is. (Maps show it on 3rd St. but there is an entrance on 2nd, which makes it much easier to get to.) The only negative was that when you are out on the balcony, there is traffic noise from the nearby Alaskan Way Viaduct. The owner was very helpful and was very quick to respond to my questions. I would definitely stay here again or recommend it to someone else." - A guest from Canoga Park, CA, Canoga Park, CA, 07/19/2014 (VRBO Review)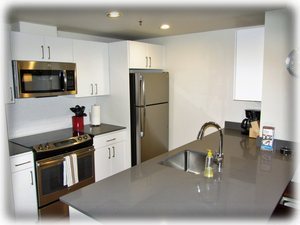 "The layout of this efficiency is great. It doesn't feel like an efficiency and is very spacious for 2 people. There is much more room than a hotel. The balcony has a great view and we spent a lot of time out there. The weather was perfect the week we were there, but the nights were loud with the window open (especially on the weekend) and it took a while to get comfortable. We left the window open and tried to deal with the noise. There is a hole for an AC and I would have paid a little extra to have an AC. I wish that would have been an option. I would recommend to the owners to make that an option in the future. Other than that, the apartment is in a perfect location. 5 minutes from Pike Place Market, 5 minutes from the Waterfront Piers, and 5 minutes from a huge Target that has groceries. There are several restaurants that are within walking distance too. The pool and hot tub are great and the apartment is decorated really nicely. The bed was comfortable. I would stay there again as long as it weren't any hotter. I would definately stay there again if we had the option of AC in the warmer months!" - Ryan W., College Station, Texas, 07/16/2014 (VRBO Review)
If you read our listing (and rental agreement, and arrival info) or ask, you will know that we do not have AC at Harbor Steps. No Harbor Steps apartments have AC, much like most of the rest of us in Seattle. Reason being, is that we don't often need it. For the few days of summer when it's hot, we just grin and bear it, and are grateful it's not raining (ha-ha!). Hotels often provide AC, but keep in mind that the 3 closest hotels to Harbor Steps are around twice the price. We strive for 5-star reviews, so are always disappointed when the reason for a 4-star review is something fully disclosed in advance. Feel free to read our other +/- 150 reviews for our Harbor Steps apartments to see what others say as well. I'd be happy to send links. Thanks! Debra, Picture Properties
"We have stayed here for three nights and we had an amazing time. First of all, the owner was ok with us checking in earlier because our flight schedule had changed. When we arrived the studio exceeded our expectations, even though they were high to begin with. It is a truly beautiful studio, very nicely decorated with a comfy couch, nice tv, great bed, pretty bathroom and a gorgeous compact kitchen with all the appliances you might need. Off course, since you're right smack down in downtown Seattle you don't really need a kitchen if you're only staying for a few nights like we did. We only used the fridge. There's also a nice balcony overlooking the harbor steps. You can't really see the Puget Sound very well because of the freeway fly-over, but there is an awesome view from the sundeck, where you can also use the bbq's. The apartment is a short walk away from a lot of attractions and from the lightrail (Sound Transit) stops, so we took the lightrail to and from the aiport. We had an awesome time staying here and I would definately reccommend it to anyone." - Anonymous, Dordrecht, Netherlands, 06/25/2014 (VRBO Review)
"This studio apartment is as described and in a perfect location for seeing many sites in Seattle for those without a car! The location is noisy so could be a problem for a light sleeper with the windows open. We took the Link from Seatac airport to the University stop and walked two blocks to Harbor Steps. The monorail will get you to the Needle and museums located there. The Columbia Center Skyview observatory is less expensive than the Needle and we thought just as good and perhaps better than viewing Seattle from the Needle. Access from Harbor Steps to the Market, the Piers, and Safeco Field are all within walking distance. Try the duck and seven flavor beef at Wild Ginger restaurant and the halibut at Sazerac restaurant in the Hotel Monaco. Seattle is hilly so wear comfortable shoes!" - Pamela H., Phoenix, AZ, 06/24/2014 (VRBO Review)
Good news is that this downtown location is no louder (and likely quieter) than any other downtown location. Just comes with the amazing location. There are no loud night clubs around there, but you may hear a siren or any other typical city noise at night. You may also hear the fountains of the Harbor Steps. We do have other rentals just outside the city without the downtown din - just inquire! Thanks!
"We had a great stay here, close to the market, shopping, downtown attractions. Everything needed for cooking, a nice patio, great view of the wheel over the Sound. Even had laundry detergent." - Joe V., Racine, WI, 05/12/2014 (VRBO Review)
"Thoroughly enjoyed being a short walk to Pike Place market and a ton of great restaurants. We were able to walk everywhere we wanted, and take pit stops at the apartment for a rest/nap. The hot tub was nice, as well as the retro-arcade machine upstairs. The security desk was helpful to store our luggage after check-out, before heading off to the airport." - Anonymous, Calgary, 05/12/2014 (VRBO Review)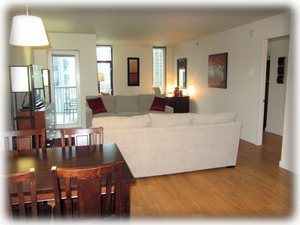 "Our rental of this roomy studio apt was perfect! Comfortable bed / pillows / furnishings with everything you need, even a full kitchen and washer+dryer! Quiet building - the only noise we heard was outside traffic & sirens, which is just typical urban background music. The location was great - we walked, took monorail and train, and taxis never cost more than $10.00. Debra was prompt and professional in our communications, and the damage deposit is being refunded (without me even asking). I can recommend Picture Properties without hesitation." - Lyn S., Tucson, AZ, 05/06/2014 (VRBO Review)
"We spent 5 nights in this perfectly located apartment and were delighted with all the thoughtful amenities in the apartment (great sheets & towels, all the kitchen supplies for cooking real meals) and facility (exercise facilities were extensive and fun). We took the light rail to and from the airport and walked the rest of the time. This is an excellent apartment in a location central to many Seattle attractions. If you have a teen, check out the great discounts for cultural attractions from TeenTix." - Kari H., Missoula, MT USA, 02/12/2014 (VRBO Review)
"I rented this studio for my parents when they came to visited me from China. I wanted nothing but excellent stay for them and this studio met every aspect of my expectation. Very nice settings, clean and comfortable. It made them feel at home! They had a wonderful time in Seattle." - Mo W., 01/20/2014 (VRBO Review)
"The rental looked just as it was shown on the photographs of the listing. It was very clean and we had no problems. It is well located to get around in the downtown area. We took a cab only to get to and from the train station. I would highly recommend it to friends or family." - Cinder, Paso Robles, CA, 10/13/2013 (VRBO Review)
"What an incredible place to stay! My husband & I spent 5 days in this condo and absolutely loved it. It was very roomy, clean, well decorated and the perfect location. We took the train from the airport and got off a block from the condo. We walked everywhere - space needle, emp museum, safeco field, and all over downtown. The check in and check out procedures were easy, concierges so friendly. The building itself is fabulous, surrounded by amazing restaurants, grocery marts and a deli. We had one issue with the hot water and it was immediately fixed. Fabulous service overall, excellent value for your money when you consider the view, the location and how easy it is to get to and from the airport ($2.75/person one way). I would strongly recommend this place to stay, well run, great location. One of the highlights of the trip was sitting on the balcony, watching the sunset over the ocean and listening to the waterfall in the square below. We will definitely be back!" - Tracy S., 09/17/2013 (VRBO Review)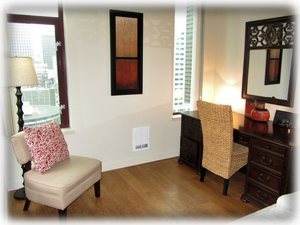 "The description and photos were exactly, 100% honest. The apartment was perfectly located, so near to many attractions, or easily accessible. Couldn't have hoped for more. Restaurant recs: Etta's, near Pike Place Mkt. and Salty's in West Seattle...take the water taxi,(make reservations and try to be there at sunset...gorgeous!) Also, you have to see the Chihuly exhibit at the Space Needle." - Marc P., 08/28/2013 (VRBO Review)
"The unit was very nice and true to the photos. We loved the location----except when we were trying to sleep. It was WAY too warm to sleep with the window shut. Unfortunately, leaving the window open meant hearing all of the street noise, people from the restaurant across the way, sirens, ferry horns, etc., all night long. Even with ear plugs, it was hard to sleep through the night and we left for our next destination exhausted. I'd highly recommend installing a window air conditioner for summer use. Also, we hadn't expected to be asked to strip the bed and take out the trash before we left. We wouldn't have minded as much doing so except that we were catching an early ferry and we were sleep-deprived, so it was one more thing to do. I appreciated that the owner was easy to contact when arranging the rental and promptly refunded my security deposit." - nancy L., 08/20/2013 (VRBO Review)
It is true that we have no AC and we are in a prime downtown location where city noise comes with the territory. Harbor Steps is not in the area of town where there are a lot of night clubs though, so that is a bonus. Harbor Steps does not offer AC, as is the case with most Seattle residences. In our arrival info we don't actually request that guests bring out their trash before check-out, but it was nice of them to take it out. It is nice if guests strip the beds that were used, but it is by no means a requirement. We definitely like to cater to our guests, so had they let us know it would be any sort of hassle to take their sheets off the bed, we would have said not to worry about it for certain.
"We were in town for vacation and baseball at Safeco Field. This location allowed us to walk to and from games, was convenient to the famous Pike Place Market, and walking distance to Space Needle. So many restaurants and entertainment venues within mere blocks! We did rent a car one day to drive to Mount Rainier. This is a great location, but expect street noise. We had to close windows at night, and it was unseasonably warm during our stay. No AC, but fan kept us comfortable. Concierge service was less than helpful or they would have received 5 stars in my review." - Kevin B., 08/09/2013 (VRBO Review)
Our guests usually tell us how helpful the front desk concierge staff is, so it was a surprise to hear these guests did not have a great experience with the front desk at Harbor Steps. We are sure it was out of the ordinary and we did let the front desk staff know. Thank you!
"My partner and I stayed here for 4 nights. The studio is very comfortable and amazingly quiet once you close the balcony door and window. The location was very fun - so close to Pike Place Market and downtown. The view from the balcony was interesting in either direction - to the left is the Sound and mountains and the ferris wheel and to the right is the city and the Hammering Man sculpture. Our only complaint would be the parking garage. It's nice that there is a garage since we did have a rental car, but the garage is too confusing! It was difficult to find which was the correct elevator to use. We would definitely stay here again!" - Carmen A., Madison WI, 07/02/2013 (VRBO Review)
We are happy another guest loved our Harbor Steps studio! The parking garage is a tad confusing, but once you become oriented, it's not bad. There are 4 towers at Harbor Steps and each one has a dedicated elevator well-labeled in the garage (Southwest, Southeast, Northwest and Northeast). Any questions - just ask!
"This studio is huge, beautifully furnished, and contains a full kitchen, t.v. area, and balcony. No reason to stay in a hotel with this property available. My husband and I were able to easily walk to the waterfront, Pike Place, and numerous restaurants--amazing location. I live 20 minutes outside Seattle, but felt like this was a true getaway." - KLN, Renton, WA, 05/31/2013 (VRBO Review)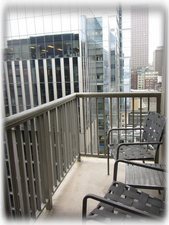 "Very nice location for tourist. Close from major activities in down own Seattle. Very secured and convenient for families." - Louna, Wexford, Pa USA, 05/30/2013 (VRBO Review)
"Enjoyed our stay very much. The location is great, close to Pike Street market and the unit is very clean and comfortable. I would definitely stay in the unit again." - michael k., 05/23/2013 (VRBO Review)
"Perfect stay for two, and a fabulous four days in Seattle (85 plus degrees and blurebird skies - we know how lucky we were to see Mt Rainer in all it's glory). No need for a car. Rode the lite-rail from Sea-Tac almost to the front door of Harbor Steps - just a block up/down the hill and there you are (recommend luggage with wheels for ease of on/off the lite rail, and down the hill to IatHS). The studio was very comfortably set up (bed, couch and chair were heavenly), and well equipped. Even though coffee is provided, I would suggest adding a coffee grinder for the fresh ground experience - after all Seattle is the coffee capital of the Pacific Northwest. That said, coffee to-go is everywhere. My new favorite spot is located just two blocks up Western Ave, on the back side/just below the Market (Pike Place for one-stop shopping - a culinary mecca). Tonyia and Dedrick are the owners of Coffee & Specialty Bakery. They bake exclusively Gluten Free! Everything is made with love, from the heart. THE BEST GF food I have experienced in over 16 years of searching. Fresh bread is baked daily, but get there early, before it's gone - a neighborhood favorite. We utilized the 5th floor roof-top deck and BBQ's one evening, and met some of the local residents (all very friendly). Spectacular view from there (take the main elevator located in the lobby and follow the signs. Another hi-lite was the Chihuly Glass Garden, located right under the Space Needle -stunning! Go at night for the lighting experience. One more suggestion - An extension bar for a taller shower head to accommodate taller people would be much appreciated! Can't wait to return to the IatHS." - Gluten FreeStyle Alaska, 05/13/13(HomeAwayConnect Guestbook Entry)
"My husband and I have stayed at the Harbor Steps many times over the last few years. While all the wonderful amenities the Harbor Steps has to offer was the same, this was the best yet!!! Why?........... because the decor in this unit was beautiful........kitchen fully equiped.........view from balcony fantastic. We lacked for nothing! Debra was a joy to work with and we will be back." - Anonymous, St George, Utah, 05/06/2013 (VRBO Review)
"We could see the Hammering Man outside the art museum from our balcony! Plus a view the other way over the water, and only a 5 minute walk to Pike Place Market. All the staff were great. Not a five-star rating because the building is a bit of a dismal maze - very confusing, with lots of long, dim corridors." - Jane, Oregon, 04/26/2013 (VRBO Review)
We are glad this guest loved our location, apartment, and views. There are 4 towers at Harbor Steps, but once you get oriented, it's not an issue (at least it hasn't been for our hundreds of other guests). The studios actually have great access to both 1st Ave and Western Ave (near the waterfront). The hallways are sufficiently lit - all interior and secure. Don't hesitate to contact us with any questions. Thanks!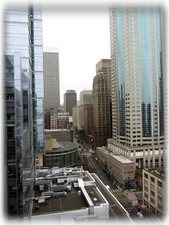 "My mother and I stayed in this unit last week (April 2013). It was lovely. Nice view of the water front, short walk for mom (80 years old) to Pike Market, and great grocery market (local and Target) nearby. I walked up to the convention center for meetings and then she and I walked down to the water front. Bed was comfortable, WiFi great, staff available and pleasant to help! We'd stay again and hope to this year!" - Leanne M., 04/22/2013 (VRBO Review)
"We had a wonderful stay, the weather even cooperated for us....NO RAIN :) The condo is nicely appointed; it had everything we needed and more.... so nice to be able to relax and enjoy the surroundings. Great views from the balcony...especially if you enjoy sunsets! And you were right Debra....the next door neighbor little dog quieted down and was no problem at all. Oh, and the best way to get back into the condo from the Harbor Steps is go thru the gate using your magnetic fob on your room key it works perfectly... then go up the outside metal stairs 1 flight and viola' you are there! Vonn's 1000Spirts - right at the top of the steps has great food and a fun atmosphere. The Pink Door (in Post Alley)- is the funkiest, funniest place yet....excellent food and Friday night live music Belle Pastry - our favorite bakery in Seattle is a block from the entrance of the SE building on Western Ave - Spring/Western - HIGHLY recommend their goodies...especially their macaroons. We had a fabulous time and will definitely be back....very soon! Couple of suggestions that would even make this place (and the only reasons it didn't get a 5 Star rating) Fix the window beside the bed, it doesn't close properly, so you can't latch it shut. It would block out a little bit more of outside noise and allow the blinds to lay a little bit flatter. Drapes - would be a really nice addition...the vertical blinds don't rotate enough to block out the lights outside - might not matter for some, but us country folk are not use to any artificial outside night lights." - Beth P., Coeur d'Alene, Idaho, 03/26/2013 (VRBO Review)
"The stay there was great! I very much enjoyed the location and condo we stayed in!" - NKC, Birmingham, AL, 03/26/2013 (VRBO Review)
"I highly recommend this property. The location is fabulous, kitchen well-stocked and accommodations perfect. Debra at Picture Properties is always a dream to work with." - Traveling Gal, Redmond, WA, 01/24/2013 (VRBO Review)
"We booked the apartment for our in laws who were visiting from Germany. The apartment is conveniently located downtown with parking available on premises. The furnishings are very nice and although the unit is a studio, it is spacious with a separate alcove for the bed, separate from the living and dining area. The furnishings are excellent and attractive. Our parents were very comfortable and found everything to their liking. Picture Properties provided outstanding response and service when we had questions or needed anything. We would definitely recommend this apartment for any visitors to Seattle and will keep it in mind for future visits from friends and family. Wonderful value compared to a hotel, and much more comfortable with plenty of space and a nicely stocked kitchen available!" - Megan, Seattle, 12/30/2012 (VRBO Review)