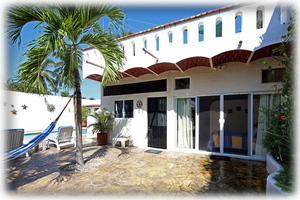 "We had a wonderful 24 days at Casa de la Algeria! The property is exactly as pictured and described. We were delighted to find that it is equipped with everything we needed to make our stay comfortable and convernient. There are beach chairs and umbrella, pool toys, a generous supply of towels, comfortable poolside lounges, and a marvellously well equipped kitchen including a full size refrigerator and propane stove. Just outside this vacation oasis you step into a real Mexican town with all that that involves including cobble streets, a school, friendly locals, corner stores, restaurants, and of course dogs. We loved it! Lissa is most accommodating; she was kind enough to take us to a local doctor when needed. Her 'in casa' visitor guide is helpful and comprehensive. Thanks Lissa. Love to Cricket! We look forward to staying again." - Robert B., 01/13/2019 (VRBO Review)
Thanks so much for the great review! I thoroughly enjoyed your stay here! You are outstanding guests! You are the type of guests that make this rental business incredibly enjoyable. I look forward to your next stay!
"Yes, it is really only 1/2 block to a beautiful non-crowded beach! We were either in Lissa's very clean pool or at the beach every day of our trip! Lissa was a great host with a wealth of information, ideas and suggestions about things to do in and around La Penita. She provides a comprehensive book (in the casita) which is very clear and answers a lot of questions. She has done an excellent job making sure you have everything you need - pots, pans, coffee maker, clean beach and bath towels, beach bag, boogie board, reusable shopping bags, dish towels, TV with Netflix & Amazon Prime...you get the picture. We had many questions for Lissa and she was always very accommodating. She even offered to drive me to the store to get medicine for my wife during a heavy tropical rainstorm. Her personal (local) restaurant suggestions were spot on! Make sure you ask her about Lucy and Alex's restaurant which is a 3-minute walk from her place. It is one of those places where you have to know its there because it is basically two people (mother and son) cooking out of their house! There are just a couple of items on the menu and they are only open in the evening on Fri, Sat, Sun but it was some of the best food we ate. My kids who are finicky eaters loved this place! The other place she recommended was La Casita de Irma. This place was absolutely GREAT!!! Definitely, one of our favorites!!! The interesting thing about both these places is they were tastiest, cleanest food and drinks we experienced and they were both the LEAST expensive...Imagine that! Getting back to the Casita (ours was called Casa de Alegria, Casa Pacifico is the entire property) where you will at least be spending some of your time...did I already mention it was clean? No, I think I said Super Clean! It was also really cute and color coordinated inside. The air conditioner worked very well. The water pressure in the indoor shower was very low. That might be a problem for some but it really wasn't a problem for us. I would highly recommend staying here!" - Walter W., 08/21/2018 (VRBO Review)
Thanks so much for the great review! I really enjoyed hosting your family. It was a delightful week. I'm glad you were able to experience so many things I find special about La Peñita. Yes, the water pressure is an issue, one that we have very little control over as the city doesn't provide pressurized water like folks in other countries/areas are used to. All water is gravity feed with a series of pumps. I've gotten so used to it that when I visit my kids in the US, their shower feels like a pressure washer! So glad you enjoyed your stay here and the area. I hope to have you here again!
"We spent a wonderful Thanksgiving week here in 2016. The house is comfortable, clean and large enough for a family of three. The photos posted by Lissa reflect exactly what the place looks like and it is really pretty and cozy. A/C and ceiling fans made a big difference, especially in the evening. The house, including the kitchen and the bathroom, is fully stocked, and whatever we couldn't find (bar of soap, corkscrew) we bought on Penita's main strip. We got groceries at the supermarket on the way from the airport and ate at least one meal a day at the house. At night, neighbors played loud music, but inside the bedroom we couldn't hear it. The private pool was nice, but the ocean blew it right out of the water. The beach is a few doors down, a two-minute walk. It's about a mile long, and most of the time, there were very few other people on it. The water was very warm and swimmable. Lissa is great. She lives in another house past a beautiful little garden on the same property. Her advice was always spot on. We enjoyed our privacy, and Lissa was there most of the time and happy to help if we needed her. La Penita is a good hour from the airport. We suggest renting a car. We drove around and explored beaches and towns along the coast. Ask Lissa for car rental recommendations. We forgot to and got ripped off, at least a little. The beach was hands-down the best part of the vacation. Staying away from touristy places like Puerto Vallarta was definitely the right decision, too. We had a peaceful and relaxing time." - Anna O., 12/14/2016 (VRBO Review)
Thank you so much for your kind review! I enjoyed having you and I'm glad you had a good trip. Corkscrew! I don't drink wine so that one completely slipped by me on the list of provisions! Good feedback! Hope to see you again!
"Spent 6 nights and thoroughly enjoyed our stay. Our casita was comfortable, and didn't lack in anything we could find. My only caution would be that the 2 bedrooms are only separated by a partial wall, so privacy could be an issue foe some. The patio and pool were lovely, and always provided a shady spot somewhere for those hot Mexican afternoons. The location was great, being about 2 minutes from beach, which was always near-empty when we were there, and made for a really nice walk to Centro, and especially back at sunset. The owner is a full-time resident, and happy to provide suggestions about the area (ie. Go for the Limonada at Irma's, delicious and super refreshing). If you're looking for a true Mexican town, LA Penita is a perfect example. Great people, authentic food, dusty cobblestone streets, chickens and laid back dogs everywhere. If you're uncomfortable with that type of area, stay at a resort. If you're looking for real Mexico, I'd highly recommend staying here." - Doug L., Richmond BC Canada, 11/01/2016 (VRBO Review)
Thanks for your kind review! Enjoyed having you guys here. Glad you enjoyed La Peñita and its cultural flavor as much as I do. Hope to see you here again!
"I enjoyed my stay in this casita immensely. It is definitely not the resort experience-thank goodness! Pros: inviting enclosed courtyard; hammocks in the shade; pool with pool floats; small, but well equipped kitchen; ceiling fans throughout; bedrooms air conditioned; walk to the beach is super short; beach towels and beach chairs provided; outdoor shower to rinse off sand and salt; washer and dryer; walk to Avenida shopping and restaurants took only ten minutes or so. Cons: street is dusty and cobbled like all the other ones in town. Owner added tables next to lounge chairs by the pool the last day I was there. Remodel of kitchen and bath scheduled for April, I am excited to see the changes! I will definitely stay here next time I take a Mexico vacation." - Anonymous, Phoenix, Arizona, 03/26/2016 (VRBO Review)
Diana, thank you so much for your kind review! I enjoyed talking with you during your stay. I'm glad you enjoyed the atmosphere here and found the \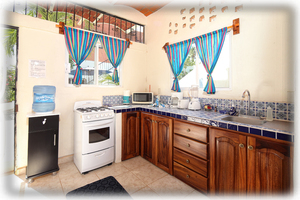 "I began email discussions with the owner on November 25, 2015 about renting the place for a month beginning February 7, 2016. I arrived the evening of February 7 and on February 8 was told to vacate the premises. The owner was insulted that I told her that her place was not as described in the numerous emails we shared, or her ad on VRBO. It was different in so many ways, that I asked for a refund. She complied with a check for two-thirds of my rental and then stopped payment on the check after she EVICTED me. This remodel sits between two empty derelict bldgs. The owner designed a bathroom area for her dogs right when you walk in the entry-way. Be prepared for the look and smell of urine and dog feces as you enter the grounds just to the right of the door. The two dogs are not excessively noisy but they do bark. The casita itself...the front door only opens 1/3 of the way. The beds are comfortable and the sheets have that high thread count that she mentions in all her advertising. Supposedly this makes a huge difference in the quality of your vacation, but she neglects to mention that the window screens have rips and tears that mosquitos get thru...and this side of town has lots of mosquitos. The bathroom hardly accomodates one person and the shower is moldy and mildewy with very little water pressure from a shower spigot that is plugged with years of scale. And bugs...if you like your bathroom with bugs, this one is crawling (literally!) with them. In and out of the shower drain, along the baseboards. She will tell you that every place has bugs. I will tell you, that is simply not the case. There is no chance you will feel the ocean breeze in the small, cramped courtyard. Nor will you hear the surf from this location. The bungalows are directly across the street from a schoolyard playground. The kids are out there early. There is also a marching band with an enthusiastic snare drum player. They practice late into the evening. If the school is not in session and the band is not practicing, you can hear stereophonic rock and roll cranked up to its loudest volume from the numerous apartments and parked wrecked vehicles in the area. When I mentioned the noise to the owner on the morning of February 8, 2016 she became very offended by my \" - deb f., Illinois, 03/22/2016 (VRBO Review)
I'm sorry you were unhappy with the location of my property. I try to be very clear that the house is in an authentic Mexican neighborhood. I think you were perhaps expecting something more like the small resorts where the properties are more insulated from the local culture. When you decided to leave the morning after your first night, the only reasons you gave were the number of Mexican families in the neighborhood and the school children across the street. None of the other concerns in your subsequent review were mentioned at all. I am forced to assume that you may be confusing my property with another as even your description of the location of my house is not accurate - I am the 4th house from the beach, not several blocks, and I have a neighbor on one side and rental bungalows on the other, not derelict buildings. I hope you were able to find accommodations that met your needs, and again, I'm sorry your expectations and my property were not in sync. I have had many other guests for whom the culture, location and ambiance were a perfect fit.
"The casita on this property was very cute, clean, and an all around great place to stay while in La Penita. I came with two friends on a girls trip and we had plenty of room. We loved the pool right out front, and felt very safe! The beach is very close, a short walk away. We had a great time!" - Kelsey, Denver, 02/15/2016 (VRBO Review)
Thanks so much for your kind review. I'm so glad you girls had a good time and were able to relax! I enjoyed having you here and look forward to your return! Thanks again!
"I had a very good stay at Lissa's casita. Lissa is a terrific hostess; she went out of her way to make sure I had dinner on my first night along with a trip to the grocery store, and was always ready with advice and contacts to provide whatever I needed. The casita is surrounded with a lovely terrace, pool, lounge chairs and hammocks, and has good beds and all that is needed to cook. It's still a bit of a work in progress as the rooftop terrace is soon to be finished, and some of the furniture is still to be replaced. It is as advertised, just a block to a nearly empty beach, even in high season. Just an easy 10 minute walk along the beach leads to town which is not overly tourist filled. You will however find plenty of N. Americans who come to stay for longer periods. This is not a fancy resort town but a more authentic Mexican experience, just what I wanted. You will encounter chickens, dogs barking, lots of children, and there is a school across the street. The nights were peaceful and I loved swinging in the hammock and watching the stars. Lissa also has a one bedroom apartment with a large private terrace that she rents more on a long term basis. I can't stress enough that Lissa is warm and helpful and made it very easy to get set up in the town. I recommend her and her rental!" - Kathryn A., 02/03/2016 (VRBO Review)
Thank you so much for your generous review! I enjoyed your visit and helping you get settled in was my pleasure. I'm glad you had a great stay and found La Peñita as delightful as I do. I hope to see you again!
"My stay in this lovely casita was just what I needed to de-stress! The beach was not cramped with people, and the waves were soothing (not roaring for surfers as a few miles down the coast). Even though the ocean is so close, the pool felt like heaven after shopping and sightseeing. The amenities were plentiful: towels, nice sheets, bottled water, kitchen stuff, etc. the owner was considerate and gracious with good knowledge of restaurants, shopping, etc." - Take a time out, Denver Colorado , 01/12/2016 (VRBO Review)
Thanks so much for the kind review. I'm glad you were able to relax and enjoy your time in Mexico. I will welcome you back any time!