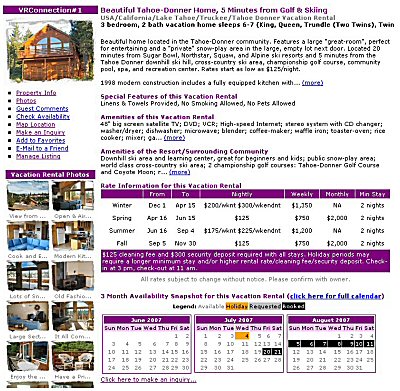 The first step in using VRconnection to market and manage your vacation rental is to create your property listing. Your listing will serve to advertise your property to potential guests, highlighting its features through descriptions and photographs. When you create a listing, it will automatically be added to the VRconnection Web site browse and search functions so that vacationers looking for a place to stay will be able to consider your property for their accommodations. Advanced listing features can further promote your property by highlighting it in search and browse results as well as featuring it on various key pages of the VRconnection Web site. Additionally, you can assign a unique name to your property listing, such as "RudmanTahoeHome", and VRconnection will create a unique Web address that can act as a Home Page for your vacation rental.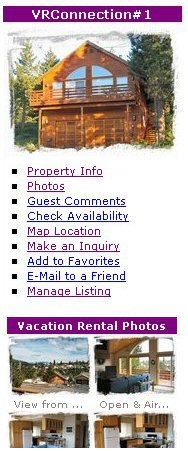 Each listing includes the following:
Unlimited descriptive text that describes your property, special features, and community amenities.
Up to 21 photos of your property and surrounding community/resort.
Flexible rate table that can specify a wide variety of different rates adjusted on a seasonal and/or stay-length basis.
Rental terms including any fees for cleaning, security deposit, pet deposit, check-in/out times, cancellation policy, etc.
Fully automated availability calendar that can synchronize with over a dozen other calendars, including the popular Rentors.org calendar.
An automated guest comments page that can synchronize with the Rentors.org guestbook or built in guest feedback facility.
Optional geographical mapping via Google maps.
'E-Mail a Friend' feature allows you and others to refer associates to your property via a high quality e-mail complete with photos.
Intelligent 'Make an Inquiry' form that displays your booking calendar and allows prospective guests to make a direct inquiry to you via e-mail. Form can be configured to reject submissions for dates that are booked or for stays of less than your required minimum. Optional 'Book Online' functionality can give the prospective guest the option to book available nights immediately.
Some of this is pretty standard stuff when it comes to the various vacation rental listing services that are available on the Internet. What happens after you receive an inquiry is what makes VRconnection stand above the rest. Remember, advertising and marketing your property is important, but managing it effectively is equally necessary.
If you like what you see so far, click here to list and manage your property with VRconnection. Otherwise, let's continue the tutorial with responding to reservation requests.