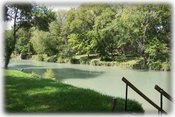 Vacation Rental Photos
Back Deck ...
Fishing Su...
River Barn Suites Bed and Breakfast
USA/Texas/San Marcos Vacation Rental
1 bedroom, 1 bath vacation b&b sleeps 2
From
To
Nightly
Weekly
Monthly
Min Stay
Oct 12
March 10
$75-$85
$500
$2,000
1 night
March 11
Oct 13
$85-$100
$600
$2,500
1 night
All rates subject to change without notice. Please confirm with owner.
Add 6%. All monies must be paid in full upon check-in. Discounts for stays greater than 3 days. I accept personal checks or money orders and required a one nights rate deposit one week prior to stay.

Cancellations must be 7 days in advance or are subject to a $50 cancellation fee. I do accept short notice on a space available. Now accepting PayPal if you want to use a credit card for advance payment only.