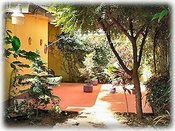 Vacation Rental Photos
Photo 2
Photo 3
Photo 4
Photo 5
Nicaragua Guest House ~ IDEAL FOR BACKPACKERS, ONGs and GROUPS!
Central America/Nicaragua/Managua Vacation Rental
8 bedroom, 6 bath vacation b&b sleeps 14 (Twin beds)
Nightly
One Bed
$15 - $28
Two Beds
$20 - $35
Three Beds
$30 - $55
All rates subject to change without notice. Please confirm with owner.
Add USD$100 for deposit more than 3 nights, tax include.

The hotel reserves the right to evict guests acting in a disrespectful manner, acting illegally or breaching hotel codes of conduct;

RIGHTS AND OBLIGATIONS OF GUESTS
A) Please keep the volume of your TV low, so you will not disturb the other guests.
B) This establishment strictly prohibits guests from occupying a room for purposes other than for legitimate overnight stays. If a guest is found to be using a room for illicit or illegal purposes, the guest will be immediately removed from the premises, without refund. C) When guests are long-term (more than 3 nights) we will change bedding and linens only every second day (to keep our prices as reasonable as they are!) D)You receive the quality and services that you pay for. (E) CHECK OUT is 10:00 am....( this includes those guests arriving late - flights after 2300) F) We reserve the right to evict (without refund of payment) those persons who behave in a manner that is disrespectful to us, to our establishment, or to other guests. G) We have fenced, secure parking available if you arrive before 10pm. After this time, your vehicle will be on the street, which is also reasonably secure.
H) In order to respect the comfort of all guests, we turn out the lights at 11pm.

Click here to make an inquiry...