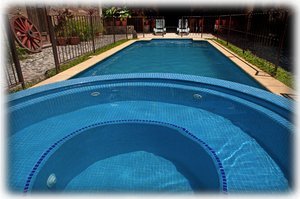 "Excellent place to stay in Antigua for a group!! the attention of the host is fast and helpful. 10/10" - Estuardo O., , 09/05/2019 (VRconnection Guest Feedback)
"I am not going to bore you with a bunch of fluff. If anyone is out there looking to stay in Antigua and your bouncing back and forth from listings- SHAME on you for skipping this one. This property is perfect. It is safe (24 hour security). It is clean (constant housekeeping and gardening). It is huge, lots of space to relax and be alone. I stayed here for 10 days with my wife and two small children, my wife's sister, her husband and their two small children. Plenty of room; washer and dryer, pool and hot tub, beautiful views. There is staff available to cook meals for you. This was one of the best things we ever did while staying here. Waking up to a full course ethnic breakfast was amazing. Extremely professional, humble, clean and respectful staff. Kitchen was left clean when they were finished and the food was delicious. My children cried the morning we left. They did not want to leave. You will regret choosing another place to stay. It doesn't get any better then this. The communication was excellent with the owner and property manager. The staff at the home were constantly help full and respectful. I will be returning. No doubt about it." - Gerry R., New York, 07/25/2019 (VRBO Review)
"Friendly staff and gorgeous house. Definitely a yes if you are staying in Antigua! " - Regine P., , 05/31/2019 (VRconnection Guest Feedback)
"The great stay started with Flor's excellent communication providing us with information about the house. She was always very prompt and responsive. We arrived very early and she helped us secure our luggage prior to check-in time. Flor helped arrange to have someone cook us an excellent breakfast on our last morning for about $4-5/person. This saved a lot of time as we packed in the morning before heading out to our next adventure. The house and pool were clean and maintained daily. The whole neighborhood is very quiet and being in a gated community made us feel safer. The location is not central but it's a short walk to the central park and even shorter walk to the super market where we could buy cold beers. I would definitely stay here again." - Thuc-Quyen N., San Francisco, 04/25/2019 (VRBO Review)
"This was a lovely home with a nice pool and jacuzzi and is walking distance to the town square. The people were very nice and responsive and Flor was great!!" - John K., 04/22/2019 (VRBO Review)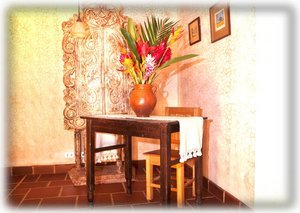 "This was a wonderful home in a great location and the people were very responsive and helpful, especially Flor!! I highly recommend this home for larger groups. John" - John K., , 04/06/2019 (VRconnection Guest Feedback)
"Great place to stay! Good location, walkable to all things in Antigua. Amazing customer service, suggestions for things to do and included housekeeping and a local cell phone for use. We would definitely stay again! Thank you for a memorable time." - Maura R., 08/22/2018 (VRBO Review)
"The staff at this property is phenomenal! They are very attentive and respond quickly to any needs. The homes are large, with lots of room for a big group and plenty of space to lounge. The location is beautiful and in a very safe, gated community. We were able to walk any where in the city within 10-20 minutes comfortably. The only downside to the property is the lack of A/C. This is not terrible, but we kept the windows open for air circulation and had a problem with mosquitoes. We loved the lady available to cook meals. Everything was delicious and very reasonably priced. We would recommend this site if you are traveling to Guatemala!" - Anonymous, Andrews, TX, 06/20/2018 (VRBO Review)
"We rented Casa Espiritu Santa Villa for a Birth family reunion. It was perfect for our two families to get to know each other. The courtyard was breath taking and the villa was perfect. We hired a cook for several of the days and I can not say enough about how delicious the meals were, always fresh and very good. The property manager Flor was delightful. She was very helpful and nearby if we needed her, even on Sunday morning. We had 4 bedrooms all with baths and the kids really enjoyed the pool and hot tub. The area is very secure and within walking distance of everything you may need. They had fresh flowers delivered to the villa almost daily and the housekeepers were always on hand if needed. We felt like royalty for the week. Thank you Paola for sharing your beautiful Villa. Gracias to everyone that helped us during our stay, from the security guards to the pool guy, Gracias!" - Robyn P., 05/17/2018 (VRBO Review)
"The pool is great (though maybe a little smaller than the pics show). The unit was clean, sizable, and was very nice. Security of the property was well done. The property manager's were very accommodating. The whole process was very smooth." - Chris M., Colorado, Es, 05/06/2018 (VRconnection Guest Feedback)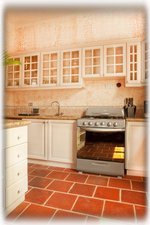 "We had a really nice visit with our family. My son (12) and I loved the pool and Jacuzzi. The house had all of the amenities that we needed to make our trip comfortable. The house is located close to the central square and near many restaurants. We will definitely stay here again in the future." - Bob M., 04/22/2018 (VRBO Review)
"The Villa was wonderful, Flor worked hard to mKe sure everything was perfect for us. Myda the cook was wonderful. The fresh flowers and baked bread was a nice touch. Thank you. " - Robyn P., , 04/12/2018 (VRconnection Guest Feedback)
"We really enjoyed our stay in this lovely home in Antigua. The home was located only a few blocks from the city square. The location was perfect for us since we like to walk around the city and find new restaurants and activities. The home itself was very well equipped. We would definitely rent this house again in the future. " - Robert M., , 04/06/2018 (VRconnection Guest Feedback)
"We were a group of 8staying at this property. There are as plenty of space for everyone. The house was extremely clean and had everything we needed. The staff and owner all went out of their way to make us feel welcome. They provide excellent pre arrival information and are very quick to reply. . It was a 10 minute walk to the central square and even shorter to the market.. an overall amazing rental with beautiful decorating." - Michelle S., St. Thomas, Ontario Canada, 11/29/2017 (VRBO Review)
Thank you for your comments. We love our homes and I'm so glad you enjoyed your stay there. We hope to see you back soon :)
"I brought a 21 member surgical team to Guatemala and after a long week with late nights, Casa Espiritu Santo was the perfect place to unwind. The homes are beautiful and well appointed; everyone thoroughly enjoyed themselves! Our hosts met us at the property on arrival and were very attentive answering any questions and offering suggestions for dining, shopping, etc. We had no maintenance issues so, can't speak as to how promptly they reply, etc. We look forward to our return and our stay in Casa Espiritu Santo. If you are looking for a large, comfortable home, you won't be disappointed! " - Ed A., , 10/29/2017 (VRconnection Guest Feedback)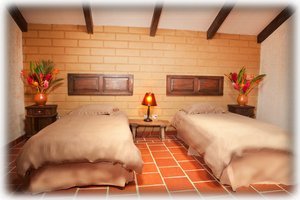 "We rented two homes (4-bedroom, and 3-bedroom) for our family of 10 adults and both homes were very beautiful and spacious and daily maid service was so very nice and convenient. The care-taker also stayed on-site, so if there was anything needed (firewood, water, etc.), he was always around and that was very helpful. The gated community is very safe. The owner and property manager were always receptive when a need arose. " - Dora J., Murphy, TX, 10/13/2017 (VRconnection Guest Feedback)
"Great house with lots of space in it and super nice and helpful staff!" - Alvaro D., 02/21/2017 (VRBO Review)
"\" - Anonymous, 03/25/2016 (VRBO Review)
"Spend 4 fantastic days exploring Antiqua. Casa Espirity Santo is a comfortable vacation rental in a private enclave of condos, very walkable to an part of Antiqua. Tuk-tuk and taxi service were reasonable ways to transport oneself around. Beds were comfortable, bathrooms with well appointed and the staff checked in on us every day to make sure we were doing well. Bottled water was supplied and the kitchen was stocked with any of the cookware we needed. Thank you sharing this Casa with us while we enjoyed Antiqua." - Norbert G., Venice, Fl, 02/28/2016 (VRconnection Guest Feedback)
"Very impressed with the level of communication from the managers, convenient location to the markets, churches and other local areas as well as feeling very safe. Perfect volcano views, plants, flowers and the pool/hot tub were awesome. We enjoyed the kitchen and patio areas. There were two days we lost water pressure, and one guest was a little tall for the bed but everything else was perfect. I would have liked having a waffle iron to make breakfast waffles, and more storage containers as we did quite of bit of cooking and entertaining with local friends. Every staff member was helpful and courteous. We would love to come back soon! " - Sharan O., North East, Md, 01/21/2016 (VRconnection Guest Feedback)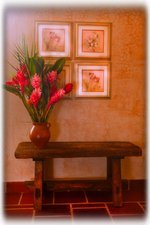 "We had a wonderful stay at Casa Espiritu Santo from November 8-16, 2015. The staff were absolutely wonderful -- friendly, helpful, and good at their jobs. Everything in the house worked well (although we struggled for the first day or so to understand how a couple of the showers worked, resulting in a couple cold showers - user error). If anyone ever asks me where to stay in Antigua, I will without reservation suggest that they consider this collection of townhouses, which all face a common courtyard. The townhouses all are within a small, secure neighborhood protected by a wall. The gate into the neighborhood is guarded around the clock by a security staff. The good experience started well before our visit. The detailed and timely information regarding the house, the rental terms, and the city was first rate. Also, free wifi is available." - UZRWDWxFkbmGYKFmHQ7zVu7Ucnuol7nFUI+33V/Q, +9SwZAnY0wLCv5dmtFRGrkHjZ6S941KW97LQrw==, 11/26/2015 (VRBO Review)
"We had a wonderful time in this house. It is huge and spacious. We rented two houses next to each other for a group of 15, and it was perfect. We had a few meals prepared for us from a local Guatemalan, and they were all delicious! All our emails were responded to promptly, and the whole experience was great. Having stayed in Antigua several times in several houses, this was just awesome. Also, the location was excellent, within walking distance to the market and central plaza, yet still tucked away in a quiet colonia. We'd love to stay here again." - Melissa C., , 11/20/2015 (VRconnection Guest Feedback)
"This place is delightful. In a quiet corner of Antigua (and surrounded by walls that make it even quieter), the house is spacious and warm at the same time. Philippa and the team were very welcoming, attentive and organized. Their welcome book was very thorough and gave us some great ideas for stuff to do. House could easily accommodate eight friendly people without crowding, the pool is very inviting and there is a beautiful view of the volcano from the upstairs terrace. Walkable to just about anything in Antigua, including great restaurants. Highly recommended!" - sledwl, Washington, DC, 11/14/2015 (VRBO Review)
Thanks so much for your review! The houses are indeed spacious! We look forward to seeing you back again!
"I rented the house because it had king sized beds in two of the bedrooms.it was perfect for us as we were four adults and three children . The pool and hot tub are a great attraction and even though it rained three of the four days we were there and we did not go out,we did not feel cramped as the house and the bedrooms are a very nice size.there is a nice TV set and two nice size tables where we played board games. The kitchen was also comfortable to prepare meals. We did get in the hot tub the last day and someone came to turn it on for us even though it was a holiday. The person who came to clean was fast and efficient. I would go back again and again and hope to do so soon with a girls getaway. It is very close to the artisan market and not faraway from the center of town We had a car but if it had not been raining, we would have probably walked into town. I felt very safe as it is a gated community. The owner and manager were very accessible and answered all my concerns. I am only disappointed that I can't rent it in the near future as it seems to be booked up for awhile but as soon as we can, we will go back." - Margie g., 10/27/2015 (VRBO Review)
"Philippa was an excellent host! She was very helpful and made clear how to get into the house a week before we arrived. She was very easy to get in touch with throughout the entire process. We couldn't have picked a better place to stay while in Antigua. It was central, safe, absolutely gorgeous, had great views, was clean, and very well equipped! She even had a bottle of wine waiting for us. Our experience at her home could not have been better." - Maude E., 10/23/2015 (VRBO Review)
Thank you so much Maude. We hope to see you again soon!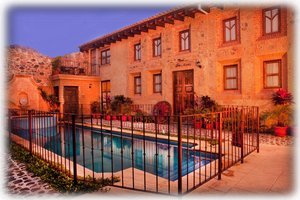 "Excelente casa, muy buena ubicación y la Atención de Philipa es única, siempre están atentos a todo lo que se necesita. Nos sentimos acompañados y acogidos. Muy recomendada" - Marcelad, Colombia, 10/15/2015 (VRBO Review)
"This is my 2nd time staying at one of Philippa's properties. Both places and experiences could not have been better. They surpassed my expectations. Our party included elderly people, young adults, and young children. The house was large enough that everyone had their own space and weren't cramped. The kitchen had all the necessities so we would just walk a few minutes to the shop and grab eggs, beans and tortillas to make breakfast. It was nice to have everyone together and not have to worry about paying a restaurant bill or deal with our kids getting bored at a restuarant. I felt extremely safe, as the property is gated. The amenities were incredible. The pool and volcano views are so picturesque! It was lovely to have a washing machine and dryer, especially with kids in the house! Pure bliss! I look forward to my next stay!!" - Anonymous, St. Louis, MO, 05/12/2015 (VRBO Review)
Thanks so much for your review. We look forward to having you stay with us again!
"A big thank you for the wonderful stay at your beautiful home in Antigua. It was very nice and most comfortable for us all. I only had minor critique's for you but the main one was a larger Television in main room and just at least 1 more TV for one of the main bedrooms. I am considering staying a much longer duration like 2 weeks and that would be something that is important to me to have at least 1 TV in one of the bedrooms to relax on the bed stretched out after a long day sightseeing in Antigua and I feel it much more comfortable to rest in bed to view the TV in the later evening. Flor and the maids and Paola were very helpful and wonderfully attentive. A big thank you! " - D'Ann W., Mosier, Or, 01/26/2015 (VRconnection Guest Feedback)
"This is a wonderful house in a great part of town. We stayed for a week and thoroughly enjoyed ourselves. Clean, well appointed and spacious. The house is within walking distance of the town, and one can walk to the Central Park and the supermarket. It is a guarded entrance and we felt very safe. The staff and the manager are very responsive and can help you with things like a car service to and from the airport. My children enjoyed the pool and hot tub. And the balcony view of the volcano is to die for! Overall, this was a great house to rent and we hope to go back someday! " - Karen A., Madison, CT, 01/03/2015 (VRconnection Guest Feedback)
"We visited this house in June of 2014. We had 8 guests, three families and were most comfortable. The house is amazingly spacious and beautiful. We have already booked for our 2015 vacation!! " - Gina W., Tyrone, GA, 06/21/2014 (VRconnection Guest Feedback)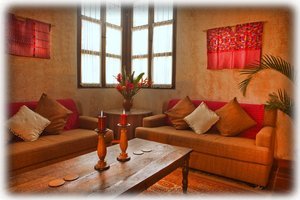 "The property is lovely and the staff is very helpful and responsive. I would definitely recommend staying at this home if you are visiting Antigua. The location is convenient to the center of the city, yet located on a quiet street." - Becky C., Northbrook, IL, 06/08/2014 (VRconnection Guest Feedback)
"I can't thank you enough for such a wonderful vacation home! The home exceeded our expectations in every way. It was so nice to enjoy the spaciousness of the home and the beautiful gardens that accompanied it. As you know, we were there with 2 other families who rented two of your other homes in the same complex. It was like we had our own resort to ourselves! All of us enjoyed ourselves to the fullest. This is a gem you have in Antigua. The pictures of the house are just like it is but you really must come here to see it youself. The view of the volcano was spectacular! The cleaning staff were unintrusive and very friendly. The house was always cleaned spotless! They even did a little ironing for us as the clothes we brought for the wedding just needed a light pressing. We will definitely stay there again when we return. I almost forgot.....Sophia operates a very exclusive and professional travel service for you and your guests. The level of service she provides is exceptional! She was always available and accommodating even at unreasonable last minute requests. I was having trouble renting a car and decided last minute to use her service. She provided me with a driver and van to go visit our friends who were in Monterrico. The extra cost (minimal and worth the extra dollars) to have someone else drive who knows the route not to mention the driving habits of locals, was well worth it. Our driver was knowledgable of the local area and was able to answer our many questions along the route to the beach. Same for our airport transfers...5 star service in new shuttle vans. Very impressive! This level of service is outstanding, it's appreciated and worth every penny. We did a lot of looking around at other houses when we were there and I can tell anyone who is wondering, you will not want to leave once you arive!" - Greg W., Waterloo, Ontario, Canada, 04/08/2014 (VRBO Review)
"We loved the house. It was incredibly comfortable, large, and extremely well maintained. There was easy access to help and assistance making travel arrangements and yet one also had all the privacy they needed. I was there with my family and staying here made our return to Guatemala very special. The house fits with the character of the old town and was well designed. The jacuzzi was an added bonus. My daughter also enjoyed the pool. We would love to return." - Tracey D., New York, NY, 01/10/2014 (VRconnection Guest Feedback)
"Casa La Hermita is the kind of vacation rental you hate to give too much praise because we don't want to it get too popular. Its idyllic. The view from the master bedroom and private terrace is breathtaking. Being so close to the markets including the westernized supermarket also helped to make our stay comfortable. The gated community which has some beautifully preserved remnants from its time as a 16th century monastery felt very safe. The neighbors very friendly. The house is an antique so if you don't like creaky, 200 year old doors and cavernous ceilings, then the Marriott is for you. Otherwise, you won't be disappointed in this rental. My family is looking forward to our vacation at Casa La Hermita next year." - evabrooklyn , Brooklyn, NY, 09/19/2013 (VRBO Review)
"All I can say is WOW! We left Antigua yesterday after sharing this lovely home with three other couples for a week. The home is much better than the pictures! All four couples said they would stay there again. There is enough room to congregate in the kitchen, dining room, patio or living room, and there is enough space in each of the bedrooms to afford some time away from the gang. We were the couple who did not have an ensuite bathroom, we shared a bath with another couple. We did not mind at all. I would make one suggestion...to add a dressing table to the room we stayed in, I sat on the bench to apply makeup with a hand mirror...it worked out ok...but a dressing table would have been grand! For those visiting, be sure to pick up extra Toilet paper as they do not provide...and the bath towel situation is a bit hard to figure out. Other than that, enjoy the home, Antigua, and the people of Guatemala. Visit the Vahalla Macadamia Nut Farm, the owners Lorenzo and Emily are quite colorful!" - Carma S., Florida , 03/08/2013 (VRBO Review)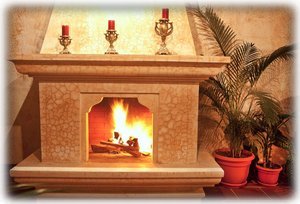 "We arrived in Jan 27 2013 and the house looks just as beautiful in person, we had a great stay we wish we could stay longer next time we will. All the staff was great also very safe place to stay in Guatemala lots of security away from the noise but also close to all the main attractions of Antigua. If you are planning a trip to Guatemala you have to visit Antigua and you must stay in one of Phillipa's houses I travel to Guatemala every year and from now on I know where I'll be staying. Great for families as well as for young travelers that love that European charm we had a great time with a group of girls that came on this trip. Thanks for our lovely stay we enjoyed casa Santa Cruz" - Anonymous, Calgary, Canada, 02/27/2013 (VRBO Review)
"We stayed in one of the slightly smaller places--they are all around that central pool--I can't remember the name. It really was just lovely, and not at all small. The one we stayed in had three bedrooms, one with a king bed and two with twins. All the rooms were very nice and included a complete bathroom (not sure I remember any bathtubs if you care about those). The whole place was very spacious, high ceilinged, lots of windows to let in let a cross breeze. It had a few little private patio areas in addition to the shared pool/hot tub space. Was a great place for my older (70ish) parents to begin their first real trip outside the U.S., as it was just so pleasant and safe feeling. We also had our 5 year old daughter with us. We picked this place partly because of the pool, and she had a great time cannonballing the afternoon away every day. The pool was a little brisk for me, so I enjoyed the hot tub instead. I do agree with the one reviewer who said it feels more like 7 longish blocks to the square. Not an issue at all if you are used to walking/in decent shape. My folks were feeling a bit under the weather, so combined with all the other walking (find a bank, find food, look around etc) it did feel a little far...I forgot how much walking around you usually end up doing in latin america w/out a car. That said, I could have easily grabbed a tuk tuk or cab for everyone when they started to get worn out. Everyone who helped us out--mostly we spoke with Paola who speaks English well--was super helpful. We did have one small misfire--didn't find anyone to pick up up when we arrived at the airport. Wasn't a big deal to just grab a different ride, I speak enough Spanish. If you've never been to latin america though, and haven't dealt with the throng of taxi guys, that can be a bit intimidating. We had several other rides arranged through Sofia/Paola/Phillipa & all went well. My daughter made friends with Fernando, the guy who took us out to Lake Atitlan & back, and to the airport. If you stay, Hugo's Ceviche truck is close (head up the big road divided by the median, toward the market) and very good! Yes, you can get ceviche out of the back of a pickup truck. There's also grocery store up that same street, and various fried chicken places, so food wasn't too far, once we got oriented. Overall, a great place, I'd stay again for sure." - Beth, Denver, CO, 01/25/2013 (VRBO Review)
"Amazing is the word to describe your wonderful home. The fresh flowers, your staff, the ammenities, location and value are outstanding. We also appreciate the connections you made for us so our days were filled with great activities. WE WILL BE BACK!!!! " - Joe D., Cincinnati, OH, 01/22/2013 (VRconnection Guest Feedback)
"This rental meets every expectation and more! It is a lovely property as reflected in the photos with every amenity to make one's stay comfortable (and I have traveled enough in the region to know what a difference that can make). Even better, having staff onsite who can answer questions and arrange babysitting for our kids was a real perk, as was the pool of course. The owner, Phillipa, was super attentive to our needs as well and made sure everything was perfect during our stay. I could not have asked for anything more. The property is literally blocks from the center of town and makes for a great location to explore Antigua on foot. Both kids and grandparents were happy during our stay at this house, not an easy feat. Looking forward to our next visit already!" - New Mexican mama, Santa Fe, NM, 10/06/2012 (VRBO Review)
"This was a wonderful surprise! After a 4 hour delay of the airlines and a 2 hour wait to register for lost luggage, I exited the airport to see my name printed out on a paper held by an older man in the crowd. I'd been worried there wouldn't be anyone there, what with all the delays! But no, a charming, better English speaker than my Spanish, gentleman, took me up the mountain and down to Antigua! And arriving late at night, in the dark, and exhausted, a sigh slid from my lips when the lights went on in the courtyard. This was worth all the troubles and stops! The space was beautiful, inside and out. The premises beat the photos and the staff was exceptional. Over the following week, three friends joined me for a workshop in town and were equally thrilled with the space. We each had our own bedroom and bath and felt we were in a place of beauty and comfort served by a staff that exceeded all expectations! On the last night of our workshop, we invited 20 people to come for dinner. Dona Clara and her assistant, prepared an exceptional meal at a reasonable (actually cheap for what we had) dinner. They did the shopping and preparations which exceeded our requests and the leftovers, continued to feed us for the next few days. Each day we returned in a tuktuk or by foot, to the clean, beautifully maintained properties. Each night we were happy to sit in the hot tub and watch the stars over the courtyard. We all decided we wanted to come back whether or not there was a workshop involved. The information provided by the owners sent us on several around the town excursions to restaurants, shops and sights we wanted to see and places we didn't even know we wanted to see.. Any questions about locations, places to visit, extra pillows, and where do we find shampoo were answered by a member of the staff complete with a little drawing of the way to get there or the name to give the tuktuk driver. We felt deliciously cared for by such warm and friendly people. I would absolutely recommend this to family and friends and even people I've never met. The kindness and genuine hearts of the onsite staff, the beauty and care with which the spaces were created and the quiet elegance of the entire property were more than we expected and the privacy of the spaces made it feel as if we were in someone's own home. I fully expect you will love this experience and encourage you to check this out for a lovely place to stay on your visit to Antigua." - Mamel, Minnesota, 09/26/2012 (VRBO Review)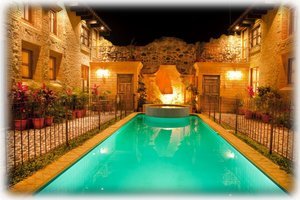 "I have been to Antigua quite a few times over the last years and this is far out the best place I have been staying. I definitely will come back." - Anonymous, Pana, 09/26/2012 (VRBO Review)
"Vivant au bords du lac Atitlan de maniere permanente nous sommes toujours a la recherche d'endroit a decouvrir.. Meme si Antigua est une de nos destinations favorites nous aimons rester a ces maisons pour la qualite des prestations offertes. Pour nous le plus important c'est de pouvoir etre dans un espace ou nous nous sentons comme a la maison et pour cela les maisons sont tres spacieuses. Nous choisissons toujours de venir durant la saison basse car cela nous permet de beneficier de beaucoup de privacite. La piscine et le hot tub dans un espace rappelant nos villages medievaux nous permet de rever tout en savourant le plaisir de se retrouver a deux. Si nous ne voulons pas sortir diner en ville et bien nous pouvons nous faire livrer a domicile. Notre grand lit king et notre spacieuse salle de bain ajoutent au confort de la maison. Parce que situe dans un complexe prive en dehors des rues bruillantes la maison offre beaucoup de tranquilite et si on cherche a se reposer et bien c'est l'endroit parfait. Se reveiller en Antigua et pouvoir aussi commodement sortir se promener pour apprecier les dernieres lumieres de la journee sur les pentes des volcans Acatenango, Fuego et Agua ou pour pouvoir assister a une eruption du volcan fuego font de cette maison un endroit de reve pour nous pour passer du temps privilegie.. Parfois nous venons aussi avec notre famille recomposees, deux filles 10-12 et un garcon 10 et comme la maison est tres grande c'est un plaisir de pouvoir avoir tout le monde vaquer a ses occupations sans deranger les autres. En plus si ils veulent faire du velo dans la residence c'est tres rassurant pour nous de savoir qu'elle est securisee et qu'il n' y a pas de traffic." - Armand B., Guatemala, 09/26/2012 (VRBO Review)
"When i saw the ads I was very intrigued, of why the castle description, as I was going to be in a colonial town built by Spaniards, with a muslim influence on their architecture, e voila, as soon as I passed the door I had this sensation of being in a huge castle, as the spaces are so magnificent, ample, somehow I felt empowered, royal, nevertheless,it is a truly colonial spaniard house though done with an air for kings and queens and little princes.That feeling got reinforced at the balconys, and then another majestic feature appears, in all its might and power, The Volcan de Agua!!!!Honestly what a beautifull and great place to spend my days in Antigua, after great bars, amazing restaurants, coming home was, an experience as we always ended up in that sensuous pool!!! Loved my days there and if you want to get royal , feel royal, this is the place!!!" - Luz Maria, Guatemala, 09/26/2012 (VRBO Review)
"I have stayed at this beautiful home several times over the past few years and each time I find that I love it more and more. First of all, it is exquisitely beautiful. The exterior is lovely stone and seemingly simple, but it belies the size and absolute beauty of the inside. High ceilings, beautiful dark wood accents, nichos holding lovely colonialesque sculptures or candles, decorated with warm colors and luscious fabrics. Fantastic heavy wood dining table. All decorated with fresh flowers and candles. Even the bathrooms are breathtaking - sinks placed in beautiful wrought iron rather than the usual ceramic tile. The bare stone floor exposed around beautiful carpets and antique looking wall finishes add to the colonial feel of the place. The house is in a gated community so it is safe and very quiet. Once inside the gate, the community is well lit and beautifully landscaped. The courtyard includes a beautiful pool, magically lit in the evenings. It is just a few blocks away from the bustling Antigua market and the main square - an easy walk from all the tourist destinations of Antigua, with shopping and some smaller restaurants within two or three blocks. The views are indescribable. You look out your bedroom window, and over the roofs of churches and colonial style buildings is a volcano, hovering majestically over the city. The house is very well equipped, super comfortable beds and living room furniture, an excellent dining room - to entertain a dozen or more people if the mood suits you and a fantastic kitchen with everything you could possibly need. And then there is Dona Clara - the housekeeper who is so much more. She keeps the home immaculately clean and will even cook for you if you arrange it. But more so, she is a warm welcoming woman who treats you like family. I love this place and wish I could go to Antigua more often, just to enjoy spending time in this beautiful home. Thank You Philippa!" - Jeanne Mendez, Seattle, Washington, 09/22/2012 (VRBO Review)
"We stayed at casa hermita for a month from july 15th-August 12th and had several issues. This place is definitely NOT worth the money and it is certainly NOT castle-like. Below is a more accurate description of the "castle". - The entire place is moldy and damp. Mold was discoloring the ceiling in the baster bedroom and the dampness caused allergies for my son. - Sewer water comes up through the floor when it rains. We had small kids so we were extremely concerned. we had to block off an area of the house to make sure no one came close to this. - Internet is most often at dial-up speed - if it works at all. I was planning to work remotely and communicated this plan to the house manager but due to the poor internet I had to spend most of my time at internet cafes. - The house is described as being 5 blocks from the central park which sounds close. It is more like 7 LONG blocks and is located in a dark, desolate street. I was concerned about coming back after dusk. - Clothes dryer never worked. This resulted in near daily visits from random repair men who would show up without warning, take apart the dryer, have it run for hours to test it and leave when they finally gave up. - Description indicates that laundry is done for you - This never happened. We have 3 rental properties ourselves so were very patient and thought that the owner would give us a partial refund for the troubles which didn't happen. Needless to say, I was shocked and disappointed that the owner would be so blatant in the misrepresentation of the house. We left three days early due to these conditions. By the way, she offers a free night to anyone who posts a positive review so take the positive reviews with a grain of salt." - carlos v., Washington DC, 09/18/2012 (VRBO Review)
We were unfortunately unable to please this customer. Her partial refund for her return stay, that she said she would like to make, is still available to her. As you can see all our previous customers have been very happy and have enjoyed our hospitality. It is unfortunate when a child suffers from allergies and I wish them the best. I'm sincerely sorry that they were unable to enjoy their vacation. I look forward to improving my home and making our traveler's stay even better. ?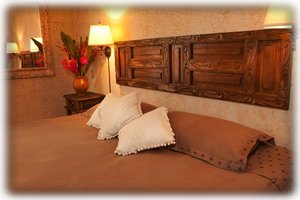 "Philippa, staying at Casa Espiritu Santo has been an amazing experience beyond our belief. The house was just perfect for for my whole family, cozy, comfy, spacious and just plain beautiful. Needles to say the wonderful staff eager to help and accommodate to your needs. We spent a lot of quality time with each other. The house and Antigua were magical....thank you so very much! " - Celia R., Cedar Hill, TX, 08/20/2012 (VRconnection Guest Feedback)
"We enjoyed staying at Casa Hermita so much last year that we decided to come back again this year! Only this year, Casa Hermita was already rented, so we stayed at Casa Espiritu Santo. We were pleasantly surprised by its luxurious size and decor, just as in Casa Hermita. One additional benefit to Espiritu Santo is the close proximity to the pool and jacuzzi, but probably my most favorite part of this house is that it's got the most romantic balcony off of one of the rooms with THE best view in all of Antigua. We look forward to our return to any of Philippa's properties!" - Emily R., St.louis,mo, 07/22/2012 (VRconnection Guest Feedback)
"We always stay at VRBOs. This was the most beautiful home we have ever stayed in. The house keeping service was exceptional. One of our party became ill and the House Keeper made her a special local tea and she was better almost immediately. Just a very small example of the wonderfu experience we had while staying in Casa La Hemita. The kitchen was well equipt, the beds were very comfortable, and bathrooms were always clean, the views of the volcanos from the Master bed room patio were spectacular. Paola was wonderful to work with and was very helpful, answering all our questions about the area. We had to meet every morning in the Central Park and we were always able to get transportation almost right out our gate. The security was fantastic and the men at the gate were very pleasant. We will return next year and we hope to be able to rent Casa La Hermita again!!" - Anonymous, Tucson, Arizona, 03/14/2012 (VRBO Review)
"I know I'm posting this a little late. SORRY better later than never? We stay at this Magnificent home myself, my wife and two kids (4 and 6 years old) and my brother in law, his wife and daughter one year old. It was well located so we could walk into town during the day or night. It was also a very secure sight with 24 hours security. The location is by far the best in Antigua for a furnished house. Market, restaurants, and central park is such a treat. We were 7 people and had plenty of space if we needed something the house is a quick five minutes walk from the market, and ten minutes to the town square at night it was so quiet and peaceful. The architecture and design features are stunning the colours, cushions everywhere and attractive art touches. Really the house should be in a MAGAZINE. The house is so well decorated and equipped that it immediately feels like home. As soon as you think it's too good to be true, you get to meet the full-time housekeeper. She's simply amazing. She keeps the house impressively clean and organized and has a sweet and friendly spirit. Our Kids LOVE THE POOL and Jacuzzi There is TVs, and a lot of dvds for all ages and we love the fireplace with some wine just to relax. The beds have great mattresses, good linens, and the master bathroom has my ideal of the ultimate bathtub - the owner even provided romantic candles everywhere to enjoy it with. Oooohh don't forget the incredible view of volcanos surrounding Antigua great view of the volcan de Agua in the morning from the master Room. Wow what a view!!!! Philippa the owner is incredibly accommodating helpful at every turn, with great insights on the local culture, restaurants, tours, transportation, you name it - she is well connected and an incredible resource. She's simply wonderful to work with and has been so flexible with us. My brother-in-law and I decided to get a massage the girls came to the house. It was great. My wife was a little disappointed because we just stay 3 days. She wanted to stay longer but for sure next time. We are going to spend more time in Antigua and you bet that we are going to rent this place again and again. In summary - just stay here! You won't be disappointed!" - gato, Rockland, Ontario Canada, 02/04/2012 (VRBO Review)
"I stayed with my 2 daughters and my son in June. We were blown away. I have been traveling for years and this was by far the best ever. Rooms are beautiful and large, kitchen was to die for. The kids used the pool and hot tub and The location was central. We found it a short enoyable walk to the central market and anywhere else we decided we wanted to stroll. Great service and hospitallity We will be back 100% for sure." - Anonymous, Kamloops, B.C. Canada, 12/30/2011 (VRBO Review)
Thanks Stephen. We certainly enjoyed having you to stay and enjoyed your company. Happy New Year! Best wishes, Philippa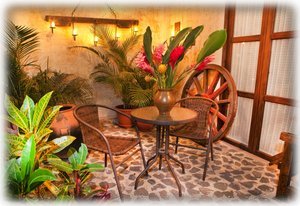 "We had a truly memorable time at this vacation home. If possible, I'd rent it out for the whole 2 months that we are here in Guatemala! I've used VRBO.com a few times before, but this time proved to be well worth it! I've never stayed in a place on vacation where I honestly felt at home--even the kids had a beautiful little table where they could eat their breakfast in the morning. I will never again come to Antigua and look for hotels--Philippa, we WILL see you again in the near future! If you are looking for the perfect place to stay in Antigua, look no further!" - Anonymous, St. Louis, MO, 07/06/2011 (VRBO Review)
"We had a most professional, welcoming experience. The home is just beautiful, with lots of fine details found only in Antigua. Service was excellent as the staff really made you feel at home. All in all, a home away from home. Perfect! Would highly recommend it to everyone. Especially for families with children as the kids are busy in the pool or are safe running around the enclosed gated community." - Padma M., Condo 4, Ca, 07/03/2011 (VRconnection Guest Feedback)
"This is a quiet, safe, beautiful place. Great for families on vacation, or as in our case, it's the perfect spot for a short working retreat. Sleeps 10 adults, good meeting space, easy walks to everything in Antigua. Tasteful, quality design and furnishings. Thanks!" - Cindy G., Guatemala City, 05/21/2011 (VRBO Review)
"Your place was beautiful! We truly enjoyed our stay and will definitely be back!" - Juan C., Retalhuleu, Gu, 10/25/2010 (VRconnection Guest Feedback)
"Philippa, Thanks for allowing us to stay in your beautiful Antigua home. For most of our group, this was our first time in Antigua and we had an amazing trip. The home was perfect for our group. Everyone had a their own private space and we enjoyed the dining room and living room and the high speed Internet. The view of the volcano was a special treat, and Dave especially enjoyed the hammock. We had breakfast one morning and dinner one evening at Casa Santa Domingo which was fabulous. We also highly recommend breakfast at the coffee plantation. We will be sure to tell others about our fabulous home." - David C., Parker, Colorado, 10/15/2010 (VRBO Review)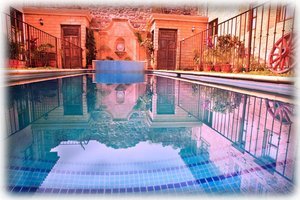 "We stayed at this property in Feb 2009. It is everything the pictures suggest. The rooms were clean and comfortable, Clara (the maid) was sweet and reliable, the owner was helpful and dependable. The property is within walking distance to the town centre and attractions, and Antigua itself is full of incredible sites. The property is in a secure compound so safety is not an issue. We were very grateful to find this property and would not hesitate to stay there again." - Anna L., Regina, SK Canada, 10/15/2010 (VRBO Review)
"\" - Trish E., 10/03/2010 (VRBO Review)
"We stayed in this house during Thanksgiving week for our annual visit to Guatemala. The house was perfect for my wife, Spencer (our adopted son), and our Au pair and her friend. The house had plenty of room for everyone to have their own space. The location of the house could not have been more perfect. The house is located just a few blocks from the main city square. We spent a lot of time exploring the city of Antigua and we were able to walk everywhere from our house. When we were done exploring for the day we were able to come back and relax in the very well-appointed living room. The house had a nice kitchen that we used to prepare a dinner for our friends from Guatemala. Oh, and I almost forgot, the views from the house are breathtaking. You can see the volcanoes of Guatemala from just about every window in the house. The house also had a nice outdoor patio that was perfect for my son and I to swing on the hammock. This house was truly a home away from home for our family." - Bob, Honduras, 10/02/2010 (VRBO Review)
"Philippa. It has sincerely been a pleasure working with you setting all this up so far. You have made what is normally a stressful and intimidating situation quite pleasant and I look forward to renting from you. Thank You." - Stephen G., Chicago IL, 60, 08/04/2010 (VRconnection Guest Feedback)
"Loved the four bedroom house in the Candelaria Neighborhood. Very spacious for sleeping lots of people and three nice bathrooms! Tastefully decorated with old-world charm....... Antigua is fantastic and much like old Seville, Spain. We had the housekeeper Clara fix us a simple, authentic Guatemalan meal. She was a delightful person. Enjoy the relaxed charm of both Antigua and the surrounding indigenous communities." - Ken A., Walnut Creek, CA, 07/03/2010 (VRconnection Guest Feedback)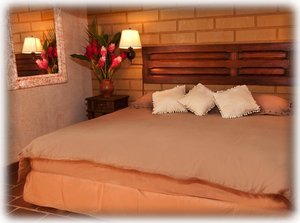 "We stayed at this lovely house last week and had a wonderful experience. The house is everything you see in the photos, but better. It was clean, and the staff took very good care of us. There is a book that gives you many good ideas of things to do, and a small library of books if you just want to sit on the patio to read, watch the volcano and listen to the birds." - Sue P., Hugo, Minnesota USA, 04/09/2010 (VRBO Review)
"My husband and I stayed in this fantastic home for 1 mo this past January. We have to say everything was perfect-from the volcano views to the commodious rooms to the high speed internet access and cable TV. Of course Clara was the shining jewel as both housekeeper and, on occasion, cook. Another positive thing to note was the very fine gated community. We were welcomed by neighbors from near and far. In fact we were so impressed that we may return to look for a place for ourselves on a more permanent basis. Don't hesitate to rent this property-the owner, the housekeeper and the community all add up to five stars! Kathy Rose and Hal Vogel" - Anonymous, -, 03/15/2010 (VRBO Review)
"Just a big thank you for a wonderful stay in an enchanting town and beautiful villa. Perfect location and Dona Clara is an angel! My family and I would definitely come here again." - david Newton, England, 03/15/2010 (VRBO Review)
"What an absolutely fantastic home! Immediately upon entering my breath was taken away by the beauty of the stone and wood and the magnificent artwork throughout. Each room was gorgeous and large. Even with the beautiful art, etc, it is a wonderfully comfortable and homey spot. My partner and I were traveling with a family of four and we all had great privacy when needed but enjoyed the large living room and dining room/kitchen when we were together. The bathrooms are wonderful. And the views from the upstairs bedrooms are stunning. The house was spotlessly clean and all the necessities (linens, dishes, etc) for our stay were abundant and of high quality. Location is perfect - close enough to walk to sites and restaurants in Antigua. But far enough way to be delightfully quiet -- and safe! Dona Clara is wonderful and very sweet. Thank you so much, Philippa. Jeanne" - Jeanne Mendez, Seattle, Washington, 03/15/2010 (VRBO Review)
"It was a pleasure to stay at your spacious home, it made the whole stay in Antigua so much comfortable, and peacefull, it is a great way to see the city and have a cosy please to retreat! thank you for creating it! Benjamin" - Benjamin Herrarte, San Marcos, Solola, 03/15/2010 (VRBO Review)