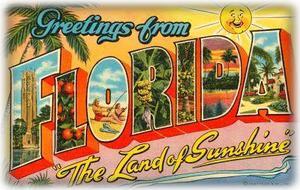 "Location 😎 Amenities 😎 Privacy 😎 = Perfect Vacation 💟 (Kim S.)" - , 10/24/2020
"I stayed here for 2 glorious weeks with my son, his wife, and their 3 kids! The house offered every possible amenity, and the swimming pool was a huge bonus for all of us. We spent a great deal of time frolicking in it lounging on rafts and playing water games. The hot tub was a great addition as well. We are already planning another vacation here. - Lara" - , 09/16/2020
"Rented this home for 3 months during the initial COVID-19 outbreak to escape the mandatory lockdown in my state. The family and I absolutely loved it and would have stayed longer if there wasn't another guest already booked for several weeks. We've actually decided to move to Florida permanently and will try to replicate this beautiful property as much as possible. " - Rich M., , 06/05/2020
"Immaculate home in a convenient location. Near Boynton Beach restaurants and shopping with easy access to expressway. Nice screened-in porch and wonderful pool/hot tub area. Yard is beautifully landscaped in a Tiki theme. We thoroughly enjoyed our stay. This home was just right for us and the dogs with lovely parks nearby for walking. We highly recommend it for a winter beach-break getaway! " - Cathy P., , 02/22/2020
"I rented this house with my family for two weeks over the Thanksgiving holiday. It was very clean and absolutely gorgeous! We especially enjoyed the heated pool and hot tub. Having complete privacy and not having to share our space with strangers was priceless!! (We certainly understand why the owner spends the vast majority of her time there during the season when the place isn't rented)." - Abigail W., , 11/30/2019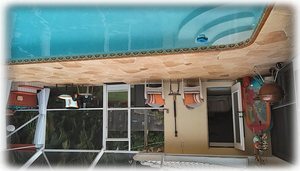 "My family and I (6 total) rented this home for the summer while we were having a house built in the area. We needed something dog-friendly that was fenced-in with a pool. It provided all those amenities and much more. We all loved staying there and were actually sad to leave. Highly recommend whether renting long-term or short-term." - Edward L., , 09/16/2019
"Very relaxing location for a southern Florida vacation. It's only a short drive to multiple golf courses as well as great bars and restaurants. The pool and hot tub were nice and Sarah was very responsive to all questions." - Seth, 3/01/2018
Thanks so much, Seth.
"Perfect accomodation, the heated pool en jaccuzi made it a really nice place to stay." - Davy, 2/01/2018
Thank you, Davy, for the additional positive remarks in the 'Private Feedback' section about how much you enjoyed your stay, etc. Please keep this property in mind for the next time you desire a warmer climate when traveling from the Netherlands!
"The suite is well furnished and compact, equipped wth bar fridge and microwave in one closet. Does not include dishes or cutlery, except coffee mugs. The outdoor space, including the pool area, the lanai and the tiki garden are absolutely awesome. This is the perfect place for a relaxing Florida vacation by the pool. Sarah Elizabeth was responsive and helpful." - Mary, 2/01/2017
"If you're looking for a private & quiet tropical house with every possible amenity, this is the place. I stayed here with a group of friends for 10 nights in February. The location was perfect & the heated pool was awesome! Having a hot tub as well was \" - Holly E., Harrisburg, PA, 04/30/2016
Holly ~ I'm really glad that you and your family had such a positive experience at this property! You're welcome back anytime.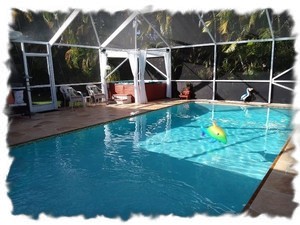 "My family and I rented this home for 3 months over the summer while building one of our own in nearby Boca Raton. We thoroughly enjoyed ourselves during the entire stay, and got some great ideas from it for our new house! In 2016 we'll be hosting a wedding and a family reunion in Florida, so will be recommending this property to our \" - Candice R., Grand Rapids, MI, 10/04/2015
It was a pleasure having you and your family stay here, Candice. Thank you so much for the referrals : )
"We chose this place because we definitely didn't want to stay in a condo, for lots of reasons, and it was worth every penny. The private hot tub and swimming pool were priceless! Of course, having a full kitchen and a laundry room were nice pluses as well. The home is located in a great, friendly residential neighborhood near the water. I highly recommend this place for family and/or friends to spend quality time together in a beautiful setting any time of year." - Gunnar M., Greenwich, CT, 03/16/2015
"Several of us stayed here while in South Florida for a nearby beach wedding. We all had a super time and some of us are returning next year! The place was very clean and well-maintained. Plus - just can't beat the PRIVATE pool and hot tub :D" - Belinda C., Louisville, KY, 01/27/2015
Hey, Belinda! I look forward to seeing you at my \
"We recently spent a week at this lovely house in Boynton Beach with our children and grandchildren. Everyone thoroughly enjoyed the accommodations. There is plenty of space for everyone to enjoy both individually and together. The backyard and pool area are very private and cozy. The hot tub was a hit with everyone! There is a nice park nearby and beaches just a short distance away. The house has a fully stocked kitchen, laundry area, and plenty of linens and towels. The only thing you need to provide is your food and there are shopping centers nearby. Sarah is a very caring and accessible host. We would definitely consider staying again." - Anonymous, 03/20/2014