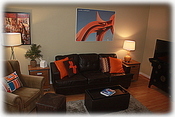 Vacation Rental Photos
Comfort: P...
Belltown C...
Large, ful...
Tranquilit...
Enjoy the ...
Welcome go...
We've thou...
Relax: Ind...
Enjoy the ...
Dining and...
Bathroom w...
Fitness fa...
In unit la...
Puget Soun...
Waterfront...
Photo 17
Relax in y...
Sleep well...
Photo 20
View into ...
Downtown Seattle Condo, A/C, Pool, Hot Tub, Parking, Sauna, WIFI (SCS1)
USA/Washington/Seattle Vacation Rental
1 bedroom, 1 bath vacation condo sleeps 4 (1 Queen Bed, 1 Queen Sofabed)
Additional Rate Details and Rental Terms
* Holiday and Event Rates and Length of stay may vary.
* Weeknight rates apply Sun-Thurs nights.

* All stays less than 30 Nights include 10.1% Tax.
* Half of Rental Total Taken for Reservation Deposit.
* Balance Taken One Month Prior to Stay.
* Cancellation Policy is Full Refund Prior To One Month Before Check-in.