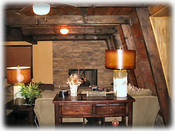 Vacation Rental Photos
Kitchen ha...
Alternate ...
Dining tab...
Game room ...
Master bed...
Another vi...
Upstairs b...
Upstairs b...
Walk to Gi...
Bear Mount...
Carriage r...
Alpine sli...
Rent a boa...
A hiker's ...
Luxury Family Cabin - 3 Bd 2ba - Walk To Lake
USA/California/Inland Empire/Big Bear Lake Vacation Rental
3 bedroom, 2 bath vacation cabin sleeps 8 (2 Kings, 2 Queens)
From
To
Week Night
Wkend Night
Weekly
Min Stay
Winter Non-holiday
Jan 3
Mar 31
$250
$325
$1,750
2 nights
Spring - Fall
April 1
November 4
$175
$225
$1,250
2 nights
Early Winter
November 5
December 13
$225
$300
2 nights
Winter - Holiday
December 14
Jan 2
$375
$500
3 nights
All rates subject to change without notice. Please confirm with owner.
Weekend rates during winter holidays apply to Thursday, Friday, Saturday and Sunday nights.
Rates above do not include 8% occupancy tax, $125 cleaning fee and a $400 fully-refundable damage deposit. Please inquire about rates and minimum stays during holidays.

*****Our calendar is always updated - please check your dates before inquiring! Thank you! *****
HOLIDAY RATES MAY VARY

** All rate dates are approximate. They may shift a day or 2 depending on day of the week.

Click here to make an inquiry...