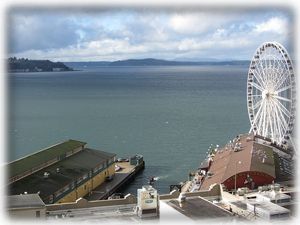 "My wife and I thoroughly enjoyed our stay in the apartment in the Harbor Steps complex that Picture Properties arranged for us. The view overlooking Elliot Bay with the snowcapped Olympic Mountains in the background was fabulous. Every time we went up the glass elevator that gave a view of the harbor, we were impressed. The location was also perfect for what we wanted to do, which was to live in a big city with no car, but with access to the cultural activities, restaurants, galleries, and other amenities that a big city offers, plus, in the case of Seattle, only two blocks from Pike's Place Market. The apartment was well equipped when we arrived and if we needed anything additional, like light bulbs or a vacuum cleaner fix, Debra a Piciture Properties took care of things quickly. We would definitely give the place a five star rating. Nick and Ene Vogel" - Nicholas and Ene V., 04/25/2018 (VRBO Review)
"This property exceeded our expectations. The view was wonderful and the apartment and accommodations met our needs. It was very comfortable and Debra is very easy to work with." - Jordan D., 03/01/2018 (VRBO Review)
"This is the ideal location for exploring downtown Seattle. It was so great waking up to a view of the water and the Ferris wheel. The unit had everything we needed. It was well appointed and felt like home. The check in and check out was easy and convenient." - Steven H., 02/19/2018 (VRBO Review)
"Condo was as pictured. Great location. Our second time with picture properties and every thing has been very smooth would recommend. The front desk staff at Harbor steps condo have excellent customer service skills." - Chuck H., 02/14/2018 (VRBO Review)
"Loved the location and the view through almost a wall of glass was wonderful. I live in a land-locked state, so the water view was a compelling reason to stay here. Loved watching the ferries come and go and the colored lights on the ferris wheel at night. Very easy check in at the concierge's desk. I think her name was Lucy (hope that's right) and she was welcoming and helpful throughout our weekend stay. We were able to leave our luggage safely stored at checkout as we had a later flight. The condo was comfortable and very clean. It had everything we needed...so much nicer than staying in a hotel. There was some car noise, but I like to sleep with a white noise app that takes care of such things anyway. We encountered a problem with the wifi. It worked part of the time, but we called Debra and she helped right away. My husband thought it was likely that the modem needed to be replaced and Debra let me know that it was taken care of the next day. These things happen and we were out a lot so it wasn't that inconvenient for us. The bed was to my liking and the linens were great quality. Really recommend this rental! So close to the Public Market and just across from the Seattle Art Museum. Lots of restaurants and shops. We had great friendly Uber drivers. Seattle is a very friendly city! Thanks to Debra for a smooth booking experience! I wouldn't hesitate to book this rental again." - Cynthia U., Boise, Idaho, 02/01/2018 (VRBO Review)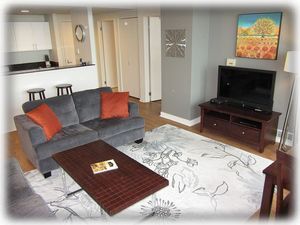 "We found the apartment clean and comfortable. It was very nice to watch the view change from morning through to the lights at night. It is in a very walkable location which is what we wanted. We will be back. Thank you." - Anonymous, -, 01/02/2018 (VRBO Review)
"The property is great, perfectly located for exploring downtown and Pike Place Market. The optional parking is a good value and makes coming in and out with a car a breeze. Before the rental started Picture Properties had to contact me with an issue and communication was excellent, during the stay there was a mixup with the parking lot not activating the pass and I emailed Debra about it. She had it resolved within half an hour, on a Saturday, the day before New Years Eve, talk about service!" - christopher t., 01/02/2018 (VRBO Review)
"Excellent location for visiting downtown Seattle. Very close to Pike Place and walking distance to the Space needle and Pioneer square. Condo was as pictured and described, very comfortable. Coffee pot did not work first morning, but was replaced by evening." - Ed M., 12/25/2017 (VRBO Review)
"Great property! Convenient location, large space with all the ammenities. Parking was a bit of a hassle and additional cost but overall a very nice stay." - Jo H., 12/06/2017 (VRBO Review)
Glad another guest had a wonderful stay at Harbor Steps with Picture Properties. I'm assuming this guest thought parking was a hassle because we could only offer the discounted parking for 3 of their 5 nights. So they had to purchase through the garage for 2 nights (different procedure). If you need parking, let us know right away so we can check to see if we have a discounted parking pass available (saves almost $10/nt). We typically do. Thanks! Debra, Picture Properties
"Great location. Wonderful views. The place was very clean and we had everything we needed. We would definitely stay again." - Melinda F., 12/01/2017 (VRBO Review)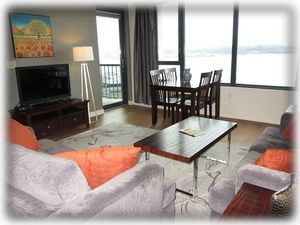 "My husband and I had the absolute best time staying at Harbor Steps. The view from the apartment is stunning!" - Danita M., 11/22/2017 (VRBO Review)
"The condo was centrally located to all the fun downtown activities and locations. We enjoyed eating breakfast at Fonte's, and dinner at Von's, both are right next door. The bed was very comfortable, and the kitchen had everything we needed. The shower head is very short so if you are 6 foot tall or more, you have to run around and duck to get wet- that is my only negative comment." - Kathleen H., 11/15/2017 (VRBO Review)
Glad another guest enjoyed their stay with Picture Properties. We don't get too many comments on the shower head height luckily, but it is the standard install height at Harbor Steps in each and every unit. Let us know if you have any questions. Thanks! Debra, Picture Properties
"We arrived about 2am and I was concerned about checking in so late but it was not a problem. Keys and parking garage key was waiting for us. The location is perfect with the 6th floor sky bridge to 1st St. The anemities were great and we took advantage of the sauna and jacuzzi. Lovely grounds and the apartment was exactly as pictured. View is outstanding and exactly as pictured. We've been wanting to stay at the Harbor Steps for a while. It definitely met our expectations. Debra was very responsive in our communication. Highly recommend this property!" - Dione G., Jacksonville Beach, FL, 10/21/2017 (VRBO Review)
"This one-bedroom apartment is a great place to stay in Seattle. The view is wonderful, with the ferries and cargo ships coming and going, and the Ferris wheel is right in front of you. You could watch it all day long because the view is always changing with all the action going on. And the full size balcony facing it all provides a great place to sit and enjoy the view. The apartment was clean and the kitchen had everything that we needed during our stay. A short walk away is Pike's Market with wonderful shops and places to eat. The waterfront is also a short walk away with more places to eat, more shops, wonderful views and the Ferris wheel. Also within walking distance is the Art Museum and the Aquarium. We attended a Seahawks game and even walked to the stadium (an easy walk of one-mile). We took a bus to the Museum of Flight – a great place to visit. And we took the train from the airport. There is no need for a car here. Debra was great to work with. She quickly answered by email all questions that we had. We had a special request that she fulfilled and we very much appreciated that. Our damage deposit was returned within a week. The apartment is in the city and yes, as others have noted, it is noisy. You will get used to the noise while sitting on the balcony. Bring earplugs if you think you will need them to sleep but with windows closed it was fine. Also note that there is no air conditioning but the two fans do help with moderately hot days. All in all, a wonderful place to stay!" - Barbara P., 10/14/2017 (VRBO Review)
"Great stay in Seattle in this one bedroom condo. Wonderful location to the wharf and Pike Market. Across street from Art Museum. Could easily walk all over. Hop on hop off location across street by Art Museum and only a couple of blocks to the Link which I used to get to and from the airport. Condo well stocked and lots of room." - Nancy B., Lee's Summit MO, 09/14/2017 (VRBO Review)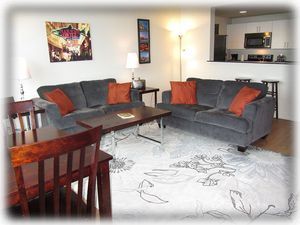 "WE came to Seattle to attend our niece's wedding, in August 2017. I chose the unit because of the view and it was close to the Pike's Market area, and we could walk to the monorail to visit the Space Needle. And also because we were not planning to rent a car. WE took the link train from the airport all the way downtown, and it was only a one block walk to the property. Very easy! The front desk concierge staff at Harbor Steps were friendly and very helpful!! The unit itself was very clean, nicely decorated, and had everything we needed. Our adult daughter stayed with us so we used the inflatable queen size mattress for her with no problems. There was extra bedding just for that purpose and she slept well. The view was spectacular! Just know that you are looking out over building roofs and a major roadway, but beyond that is gorgeous!! We watched the ferries come and go in the morning and evenings. You will notice traffic noise, but we got used to that after the first day or so. The property is conveniently located in the downtown Seattle area, so we walked to almost everywhere we visited, except for the wedding venue, but I had a Lyft account which was also very convenient. The Harbor Steps property is very nice and I wish we would have taken the time to sit in the garden area, but we were there for a long weekend and had many activities planned. I would stay here again in a heartbeat! Also, Debra is great to work with and she had our damage deposit refunded with a week." - Dorinda S., 09/09/2017 (VRBO Review)
"We enjoyed the location very much. No AC was a bummer and all windows are facing west. Temps were in the mid to upper 70s with no rain the whole trip. We opened the windows and used fans, but the expressway was very loud at all times. Bring earplugs!" - Robin M., 08/28/2017 (VRBO Review)
"The property was very clean, modern and the color schemes were beautiful. My only complaint, there were no tissues, only 2 very small bars of soap for 3 of us for 3 days and there wasn't enough laundry soap to use for the towels so we purchased more to get the load going as requested. I also thought there would be some lotion and perhaps a small container of. Cotton/q-tips and shower cap as always provided in hotels. Maybe something to think about for future guests? Other than that we really enjoyed our stay and would recommend this property to our family and friends!" - Alisa C., 08/11/2017 (VRBO Review)
Glad another guest had a good stay with Picture Properties! We absolutely should have had facial tissues (usually a couple boxes), several bar soaps and laundry detergent. We usually have extra bars of soap in the vanity drawer, so not sure if they checked there. We are speaking with housekeeping. Also, if the guests had contacted us during their stay, we could have had those items to them right away, so please do reach out if you stay with us and need anything at all. Thanks! Debra, Picture Properties
"The location of this property is perfect for those who want to see the sights of downtown Seattle . Easy walks to the piers, Pike Place Market, the underground allowed us to visit all without a car. The unit is comfortable and well appointed. The views off the balcony are great but the road noise a bit disconcerting. For sleeping the road noise was easily removed by a little help from running the fan, Would we return? YES and kept a card of the owner for future reference." - Jeff O., Green Valley, AZ, 07/28/2017 (VRBO Review)
"Beautiful Apartment, Perfect view and very well managed by Picture Properties." - Tanuj N., 07/11/2017 (VRBO Review)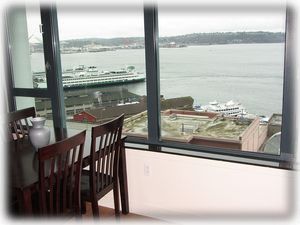 "Truly gorgeous views of the waterfront, the ferries coming and going, and the big wheel. The apartment was right in the middle of everything! Just 2 balks to Pike Market, 2 balks to piers, and a short walk to most downtown attractions including Columbia Tower Observation Deck, and many restaurants and bars. I had only 2 minor complaints: the living room sofa and love seat are a little worn and uncomfortable to sit in for long, and the noise from the freeway traffic made you not want to sit out in the balcony or sleep with bedroom windows open." - Kenneth N., Vicksburg, Mississippi, 07/02/2017 (VRBO Review)
"After we got used to the noise from the 99 we really enjoyed our stay. First class accomadations on the water with views of the Big Wheel and very close to Pike Place Market. Access to complete gym facilities too. Close to many restaurants. I highly recommend this property" - Doug S., New Orleans, LA, 06/25/2017 (VRBO Review)
"The people at the front desk were super friendly & let us keep our bags there all day until check-in was available. The location is perfect, we didn't need a car during our stay. We walked to the bus stop a few blocks away when we were going somewhere not within walking distance. Debra was very helpful when I called her a couple of times to ask some questions. We loved the views from every window, and it's great to have a private patio that is covered in the event of rain. The condo is very clean. Bed was comfortable, and the air mattress was simple to set up in the living room for the kids. The kitchen was well stocked for cooking. I loved our stay here, and would stay here again in a heartbeat!" - Jessica N., Castle rock Colorado , 06/15/2017 (VRBO Review)
"Location - I said it once more. Great place to stay for downtown waterfront. Steps to the ferries for a day trip. Waterfront restaurants and tourist stuff so close. Fantastic view. To be fair, with the windows open it is noisy. If you object to that, stay somewhere else. It did get warm in the afternoon - west facing, with sun pouring in. We opened the windows to cool it down. By early evening it was fine. We closed the windows and slept like babies. Debra gives excellent directions and instructions." - Mark T., 06/05/2017 (VRBO Review)
"Clean, great view perfect spot 2 blocks from Pike Market" - Richard R., 06/02/2017 (VRBO Review)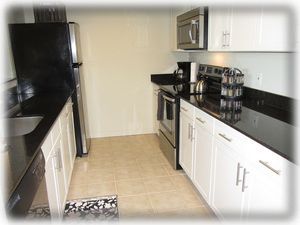 "The condo at Harbor Steps was very nice, clean & comfortable. The view of the harbor was breathtaking, especially at sunset. The location is central to downtown Seattle, within easy walking distance of museums, restaurants, Pike Place Market, the ferry terminal, and lots of other fun things. Great restaurants right outside your door. Debra was excellent with communication throughout our stay and the 24-hour staff was very friendly and helpful. Highly recommend this amazing place and would definitely stay here again." - Lynda T., Where do you live?, 05/26/2017 (VRBO Review)
"I love that they have a concierge office open 24 - 7 so you have no trouble getting keys when you arrive. Beautiful place with amazing views. We recommend Fonte' for coffee and omelettes, opens at 6 AM. The building is in the heart of Seattle, and has a nice pool and hot tub as well. King size bed was very comfortable. When I contacted Debra she was always available or called back quickly. Good service and good place to stay!" - Karin S., Key West, 05/24/2017 (VRBO Review)
"Property was in an awesome location. We were able to walk to everything very easily. Furnishings were fine. Nothing really fancy, but very comfortable. The only thing I would suggest for improvement would be to get some new pillows for the bed. They were quite lumpy, but we made it work! We followed the suggestion of bringing ear plugs for sleep and the freeway noise was no problem! Simple check in and check out. They even held our luggage for us both ways since we arrived before check in and checked out way before our flight. Two short blocks to the train station and you are at the airport for $3 each way! Great vacation!" - Amy C., 05/07/2017 (VRBO Review)
"Wonderful place with everything we wanted, did not need a car, very comfortable and easy access to the city" - Grace, IV, 04/15/2017 (VRBO Review)
"We were in town to visit family and stayed at this location. The view is amazing! We have no complaints." - Margy K., 04/10/2017 (VRBO Review)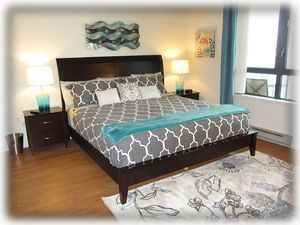 "This property was in a great location. We found it easy to walk to many of the cities' attractions. The proximity to Pike Place Market (just two blocks) was wonderful! We went daily, sometimes more than once. It was also a very short walk down to many activities on the waterfront (aquarium, ferris wheel, harbor cruises, shopping, eating, etc.). One of the reasons we chose this property was because of the view. It was fun to watch the hustle and bustle on the water all day/night and the sunset was beautiful over the water. We also enjoyed watching The Great Wheel and all of it's lights day and night - they even changed over to green lights for St. Patrick's Day! We loved it! There was considerable highway noise but we wouldn't have expected anything else in such a central location. It was not a problem for us at all. One area which could have been improved was the cleanliness and maintenance of the pool/hot tub/sauna area. It was dingy and dirty. There were clumps of hair, used band aids and abandoned toys present for multiple days in a row - yuck! That area needs a lot of attention. Most areas of the condo seemed fairly clean. There were some esthetic issues such as a missing curtain and it's rod not in the holes anymore and dusty baseboards but aside from that it looked/felt clean. We were happy to see that there was a washer/dryer combo in the unit and so we packed with the expectation of doing laundry one time during our stay. However, the condo was only stocked with one set of four bath towels/wash cloths and two hand towels. For a family of four staying seven nights that meant laundry was happening more often than expected. Unfortunately, the tiny washer could only fit two sets of (very plush and nice!) towels at a time and the dryer needed multiple cycles to dry them. Needless to say a vacation from constant laundry did not happen but we were appreciative of the ability to do it in our own condo nonetheless. Check in/out was very convenient and fast with the 24-hour concierge. We also appreciated the level of security between the four buildings and within our unit. Seattle is quite hilly and so we were happy there were multiple ways to come/go from the property. The unit was on the 16th floor and we found ourselves using levels 1, 4 & 6 to come/go depending on our desired activity. Overall we enjoyed our stay at this unit and we would recommend it to others. Thanks Debra and Picture Properties!" - Kate M., 03/20/2017 (VRBO Review)
So glad another guest had a nice stay. We usually don't have 4 guests stay in our 1-bedrooms, but we should have had several more bath towels out for them. Had they simply emailed, texted or called, we could have gotten them more bath towels same day, no problem at all (just ask!). This is the very first time we have ever heard about (or seen) the pool area not being clean. We have had thousands of guests at multiple units and have been at Harbor Steps for over 5 years. I am going to call Harbor Steps immediately to tell them about this feedback. I personally have used the pool dozens of times with my family and friends (we have 3 kids) and have never seen anything like this. Again, had they let us or Harbor Steps know during their stay, it would have been immediately addressed. We will address the curtain rod - thank you for letting us know! They are purely decorative (they don't go over the window - there are blinds). Please let us know if you have any questions. And remember to let us know during your stay if you have any issues, as we can almost always resolve anything while you are there. Thanks!! Debra, Picture Properties
"We had a lovely stay. The view is absolutely incredible. We ended up bringing food to our room to enjoy rather than eating seaside because the view was better. The location is super close to Pike Place Market as well as the ferries. We walked everywhere. The apartment was clean and comfortable. Checking in and out was easy. We'd definitely come back!" - Matt B., Tucson, 01/27/2017 (VRBO Review)
"What a wonderful & exciting stay in downtown Seattle. The view was beautiful and the place was really nice. I enjoyed my stay here more than any other nice hotel we have booked in the area, thank you!" - Laura F., 01/06/2017 (VRBO Review)
"My husband, two daughters and I enjoyed three nights in this perfectly situated apartment, about a long block from Gum Alley next to Pike Market and first Starbucks. Just blocks away from plenty of shopping (Target for supplies) and monorail to Seattle Center to visit the Space Needle and Chihuly museum. The apartment photos are accurate, large windows facing the waterfront and ferris wheel. We loved watching the ferries coming in. There is some traffic noise but that's expected in the city and that was more than offset by the comfortable apartment. No noise from neighbors and we were alone using the complex's hot tub, sauna and pool after dinner. Our daughters are young adults, but the apartment was much roomier than four of us squeezed into a pricier standard hotel room. We left the aerobed open in the living room through our stay and there was still room to walk around once we pushed a sofa away. Plenty of hot water for our showers and loved having the use of a kitchen and washer/dryer. Follow Debra's detailed note to the letter and you won't get lost. Thanks to Debra for a stressless stay." - betty w., 01/04/2017 (VRBO Review)
"We recently stayed at the apartment for 9 days during Christmas. The location is great and walking distance to Pikes Place Market, Capitol Hill, the space Needle, and Pioneer Square. The apartment is in a nice secure building and was clean. The view of the ferries coming and going as well as the water and mountains was fantastic. We would consider this property again." - jason&kim h., 01/01/2017 (VRBO Review)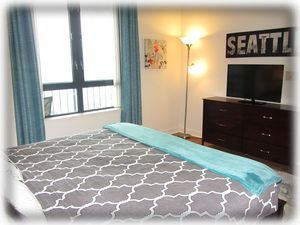 "My husband and I stayed here at the end of October and had an absolutely tremendous experience! The second we walked into the unit, we were immediately captivated by the wall of windows and stunning view! Day, night, sunny, rainy...that view is gorgeous no matter what! The unit itself was perfect--clean, comfortable, and well-equipped. Other reviews had mentioned some street noise, so we brought along a sound machine and slept wonderfully, but with the windows closed we really didn't even need it. The building/Harbor Steps complex itself felt very safe and secure, and the location was PERFECT! We walked to the market multiple times a day, which was easy since it was only 1.5 blocks away! We also enjoyed Von's GustoBistro, a fantastic restaurant attached to the Harbor Steps complex--delicious food, and open late--which was a lifesaver when we arrived into town late at night and very hungry! The ferry terminal is also only a few blocks away (we very much enjoyed the ferry ride to Bainbridge Island), and the art museum is right across the street. The market, shops, restaurants, the waterfront, the Sky View Observatory...everything is just blocks away and we really enjoyed being able to walk everywhere! Travel to and from the airport is also extremely easy--Harbor Steps is only 2 blocks from the University St. stop on the Link Light Rail. The rental company was very easy to work with, and also very kind, accommodating, and organized. We really could not have asked for a better stay--this unit truly felt like home, and we loved coming back to that amazing view every day! We would HIGHLY recommend this unit and would stay there again in a heartbeat!" - Amy L., 11/16/2016 (VRBO Review)
"We spent a week at this property and loved it! The views were amazing and more extensive than it appears in the photos even. We were lucky to have good weather but even seeing the fog rolling in and the clouds passing by was beautiful. Very clean and comfortable and equipped with all you would need. The location is perfect for exploring downtown and catching a ferry to Bainbridge. You should be aware however that there is a major highway between the property and the waterfront that is noisy if you are sensitive to sound or have trouble sleeping. We were in short sleeves the whole time we were in the apartment (and are used to heat, being from Charleston) and comfortable, but would not stay in the summer as there is no air conditioning. Opening the windows at night lets in the roar of the highway. Still feel this is a five star property, just be aware of the weather impact/noise as it warms up." - Diana O., 11/16/2016 (VRBO Review)
"Great view. Convenient to Pike market. The apartment was very nice and has everything you need." - lori n., 11/11/2016 (VRBO Review)
"We had a wonderful stay here! Beautiful and clean apartment with amazing views. Debra was wonderful with communication. I told her we were arriving earlier than the 4pm check in and she mentioned that she had guests staying so we could leave our bags with the front desk if needed. Turns out - they were able to clean the apartment by the time we arrived. It was truly amazing timing! The location is perfect for walking anywhere in the downtown area. The bed was super comfy. We did lots of walking and was able to get a restful nights sleep. We had an amazing anniversary stay and I would come back to this place in a heartbeat!" - Debbie S., Chandler, 11/02/2016 (VRBO Review)
"I needed a last minute place to stay and Debra was willing to go the extra mile to help me get into one of her properties. This apartment's view alone is worth the stay! Perfect location making it easy to walk around downtown and only a few blocks from the light rail that goes to the airport. Will definitely stay here again. Thanks Debra!" - Tuckley W., 10/24/2016 (VRBO Review)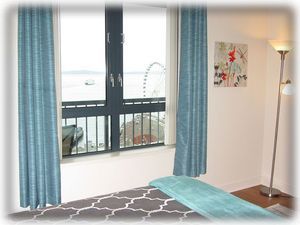 "Our stay was wonderful. The location and amenities were wonderful. We would be happy to stay there again." - Mykel P., 10/19/2016 (VRBO Review)
"We visit downtown Seattle several times each year and this is the first time we have stayed in this VRBO. The location is absolutely perfect and the view is amazing. Everything you need is included at the property from a fully stocked kitchen to the line-up of TV channels and a list of nearby attractions. Plenty of wonderful places to eat, shopping and Pike Place are just a couple of minutes walk away. Debra was so courteous and accommodating and was always quick to respond." - Alice A., 10/11/2016 (VRBO Review)
"Loved this Harbor Steps unit. View was amazing, we loved watching the ships and the ferries! The unit had everything we needed and any issues were dealt with promptly. We could walk to everything we wanted including Safeco field. We will stay here again!" - Sue D., 10/10/2016 (VRBO Review)
"Debra, the Picture Properties Rental Manager, was extremely responsive and highly professional, which made the booking process a delight. During our stay the temperature was in the 70s, (which is atypical for Seattle at this time of year) and because this unit faces West with a lot of glass it was semi hot in the unit. Otherwise, it was a very clean, nicely appointed, comfortable unit, with a dynamite view, especially at sunset. The location, 1.5 blocks from Pike Place Market, and across the street from the Seattle Art Muesuem (SAM) is quite central to everything by foot. If you have a car, buy the parking pass from Debra, as street parking is extremely limited." - Terry C., 09/20/2016 (VRBO Review)
"Located within walking distance to all major attractions. Unit on the 16th floor with a great view. Be aware there is no A/C unit, which normally isn't an issue, but with temps in the 80's and 90's the windows and fans need to be used so expect a LOT of street noise all night long." - Rockies Fan, Kennewick, WA USA, 08/25/2016 (VRBO Review)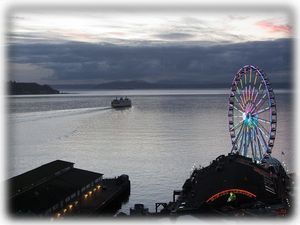 "This comfortable, clean and well equipped condo has a fabulous location. It is walking distance to Pike Market, and a nice little jaunt to the Space Needle. The Emerald City trolley has a station right across the street. The Von's Restaurant has a lovely patio in the green area of the development. The views are amazing, you can watch the workings of the piers and the Ferris Wheel is pretty at night. There is a 24 hour concierge who are very helpful and nice. We were lucky to have glorious weather while we were there, and that brought bad with the good. The west facing condo gets extremely hot, it was over 90 in the unit for many hours. We were aware of the lack of AC, but you don't get it till you are there. The heat does not necessarily reflect the outdoor temp, even on the cool 70 degree days, the condo was HOT!!!! It seems to be a hazard of the large west facing windows. All that being said, Debra, the property manager ordered a second fan for us to pick up. It helped. The second bad is the noise. Even on the 16th floor, the traffic noise is very loud. It requires closing the windows at night in order to sleep. The lack of AC was disclosed, but we were a bit surprised at the noise. We loved the location, but the hot, sleepless nights were a little rough. It would be perfect for a couple when the sun is not blazing or the temps are much lower." - CIndy R., 08/21/2016 (VRBO Review)
Unfortunately, this guest was here during record breaking heat in Seattle. 15 degrees above the normal high temps for a couple days. They had to suffer through it like the rest of us in Seattle without AC ( (85% of Seattle residences do not have AC) . Only happens a few days a year, which is why most of us do not have AC. Glad they liked everything else about this condo, as everyone else does. If you have the windows open, you will for sure hear city/traffic noise. Same as any place downtown in Seattle. This is the best downtown location most definitely. Let us know if you have any queestions. Debra, Picture Properties
"We've stayed in VRBOs for the last 5 years. Probably 25 rentals. Disappointed with few - this is one of them. This unit is extremely noisy which decreased our enjoyment. Freeway and construction noise were excessive with windows open in warm weather. Unit becomes like a greenhouse with Windows closed. Lack of AC usually not a problem in Seattle. This unit needs it. Location is great. Try to stay in a non freeway facing unit. View is nice yet not worth the noise. Rental firm was pleasant." - Hank O., Wyndmoor, 08/13/2016 (VRBO Review)
It is true that we do not have AC, nor do we advertise for AC. We do the best job we can to make sure people know it. For people who are not used to no AC (85% of Seattle area residences do not have AC), we suggest closing blinds during the day as well as the windows, then open windows at night when it cools down. The average high temp in Seattle in July and Aug is 76, so that is why most of us here don't have AC. Please let me know if you have any questions. Thanks! Debra, Picture Properties
"This place is even better than it looks in the write-up. The location is central to downtown Seattle, within easy walking distance of museums, restaurants, Pike Place Market, the ferry terminal, and lots of other fun things. The lovely water view is visible from the living room and bedroom as well as the balcony. I used to live in Seattle and did a bunch of apartment hunting/saw a lot of friends' apartments there, and in my opinion this is one of the best complexes in the city when you consider both location and the quality of the amenities. This specific apartment is spotless and really well maintained; when we checked in, there was a minor issue with the blinds of the living room window, but the owners were already looking into getting it fixed and it was repaired right away. The owners were also great about communication. Check-in at the front desk of the complex is straightforward -- no tricky arrangements, lockboxes that don't quite work, or any similar nuisances. We will definitely stay here again if it's available next time we're in town. Thanks for a terrific stay!" - Mary M., 08/10/2016 (VRBO Review)
"Great detailed information/instructions once booked. Had everything we needed for an extended stay. Couldn't be happier with kind immediate helpful response from the owners via email- went above and beyond expectation. Recommended to friends as the perfect place." - Ann M., 08/08/2016 (VRBO Review)
"We loved the property! It was so close to Pike Street, the bay, and downtown Seattle attractions. Absolutely immaculate and quiet facility with great amenities. We used the pool and work out facility, and both were perfect for what we needed. It is a great place to stay!" - Pamela Y., 08/02/2016 (VRBO Review)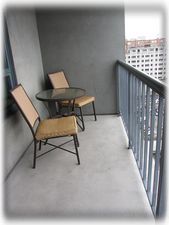 "Loved the location. The noise from the via duct freeway was annoying also we had to run a fan to try and stay cool at night without any air conditioning. The apartment didn't have a ironing board or iron to press my clothes from traveling either. Furnishings were modest at best and the view was stellar." - Ross B., 08/01/2016 (VRBO Review)
I guess you can't please them all! Please read all our other reviews (and reviews from our many other Harbor Steps units). We do not advertise AC, it is specifically noted in our rental agreement that all our guests are required to sign, and it's mentioned again in our arrival info emailed the week before the guest's stay. Sorry to be graded down for not having AC (85% of Seattle residences don't have AC). As soon as I got this review, I emailed current guests about the iron/ironing board. They were kind enough to quickly email me a photo of both items right in the entry closet, where they belong. Too bad this guest didn't look a little further or email or us so we could have helped in just seconds. All yo have to do is ask! We get a lot of compliments on the furnishings as well. Don't hesitate to ask any questions. Thanks! Debra, Picture Properties
"Can walk to Pike Market, SAM and multiple nice restaurants, coffee places. Near ferry terminal for Bainbridge and Bremerton. Beautiful view of Puget Sound. We read about lack of air conditioning being an issue, but with temperatures in the mid 70's it was not an issue for us. We kept the windows open most of the time, which does contribute to hearing the noise from the via duct (freeway). The noise did not bother me, but it did my wife. Ownership was very accommodating about giving us a later check out time. Probably is not always the case, but worked out for us. Pretty much everything you need is in the unit. Worked great for us." - Thomas L., 07/18/2016 (VRBO Review)
"This little apartment was the perfect place for us to stay! It is comfortable and clean and nicely decorated. The location really can't be beat! Gorgeous view of the bay and the waterfront. We would definitely stay here again!" - Melissa P., 07/12/2016 (VRBO Review)
"This apartment is right in the heart of everything - a block from Pike's Market, across the street from the Seattle Art Museum (check out their store and art for sale) and close to many other attractions. It's in a secure, well maintained building with a bar/restaurant on the ground floor and a mini-market steps away. The view of the water, ferries and Ferris wheel are amazing. The place is nicely furnished, well equipped and comfortable. The fact that there is no AC is disclosed in the listing and with the outside fresh air, it wasn't an issue while we were there. BUT, be aware that opening the windows and balcony door will allow general city noise and lots of traffic noise from the adjacent Alaskan Way Viaduct (a double decker highway that is heavily traveled). It's noisy so if you're a light sleeper bring ear plugs or if this will be an issue for you, you may want to stay elsewhere (this rental firm has other units in the same building, perhaps ask for a more quiet apartment). Overall an excellent place to stay, just be aware of the trade-off of fresh air for traffic noise." - Steve , Palm Springs, CA, 07/07/2016 (VRBO Review)
"The condo at Harbor Steps was clean & comfortable. Many major attractions were within walking distance or a short walk to the monorail. Great restaurants right outside your door. The view of the harbor was breath taking, especially at sunset. Thank you!!! Wiould stay there again & again." - Cheryl G., Chicago , 06/23/2016 (VRBO Review)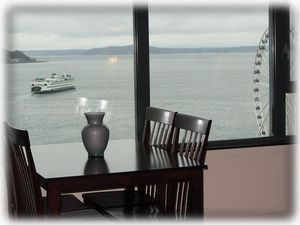 "We Love it was the perfect place for are family of 4 my 2 kids loved it Beautiful view near stores, Restaurants, and much more the room was nice and clean with extra bed and much more we will love to stay again \uD83D\uDE09" - Alfredo C., 06/14/2016 (VRBO Review)
"Harbor Steps is an incredible rental! Literally 2 blocks away from pike's market and a block away from the Pier. We walked to Safeco field to a Mariners game. Perfect location with a perfect view of the water. Pool and hot tub are an added bonus. Staff is extremely friendly and helpful. Short trip to City Center. Just a great place." - Reid O., 06/08/2016 (VRBO Review)
"We arrived after dark, so when I woke up to the amazing view, my jaw dropped. Course we happened to hit a blue sky weekend. Condo was comfortable, clean, and had everything we needed. Location was within walking distance of LOTS, which made for a perfect weekend visit to the city. Highly recommend." - Dianne L., 05/04/2016 (VRBO Review)
"We (a couple in our late 20's) stayed at this apartment for a week in mid April. This unit was perfect for us! The views were as nice as the photos, everything was spotless and we had all the extras we needed (and more) right in the room. Lots of extra pillows, blankets, dishes, etc. Check in/out was so easy. The location can't be beat either! Highly recommend Von's and Lecosho, restaurants which are both on the main level underneath the apartment building. Thank you Picture Properties for a flawless stay." - Kirstie C., 04/26/2016 (VRBO Review)
"Everything as promised...great location, great views and clean. Only issue was parking card problem that was resolved and just a bit of an annoyance." - Brian J., 04/06/2016 (VRBO Review)
So glad another guest loved this apartment. Unfortunately, the parking garage forgot to activate his parking pass, but we got it taken care of right away for him. Don't hesitate to ask any questions you have. Thanks, Debra, Picture Properties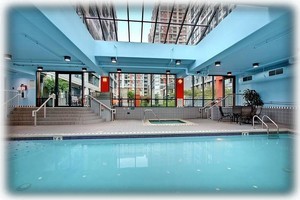 "This is a great apartment and complex right downtown. Walk to Pike's Place and great restaurants. Very pleased with the apartment--view is as great as the pictures. The owner was a pleasure to work with. I would highly recommend this apartment and hope to stay there again." - Lori L., 03/30/2016 (VRBO Review)
"We had a wonderful experience at this property. There is nothing I could possibly say against it. I wish we could have stayed longer. The view is incredible, it is furnished and decorated very nicely and exceeded expectations." - Calli D., 03/03/2016 (VRBO Review)
"I have no complaints regarding the unit. View incredible...furnishings comfortable...great sleep on the bed...nothing lacking, so just what I was looking for. As a design point of view...reverse the tv and couch to opposite wall...then if your sitting on the couch with the tv on....you're looking at the wheel and mountains as well. But wasn't there to watch tv so no worry! I'll be back...several times!" - terry d., Scottsdale AZ, 02/25/2016 (VRBO Review)
We would have switched the couch and the TV, but no cable outlet on opposite wall. Still, amazing views from every part of the apartment. Glad this guest thought so too and had a great time!
"I've stayed in downtown Seattle a several times in the last few years. The last couple I've moved from the hotels to something more comfortable and homey. The last place I stayed was so small you couldn't have swung the proverbial cat. This apartment was a pleasant change with it's roominess. There was a decent sized living room and bedroom (not a studio), with a well stocked (appliance wise) kitchen area. The couches (yes, plural) in the living room were comfortable, and provided for a good sitting/working space during the week. The bed was comfortable, and I was able to get away at the end of the week with not having a back-ache. Something unusual for staying away. The location was great, with easy access to the apartment, stores, and other places downtown. I'd highly recommend staying here if you need a place for a few days, and want something more than a small hotel room." - Nicholas C., 11/02/2015 (VRBO Review)
"Instead of hotels, my wife & I decided to try VRBO for our downtown Seattle stay. The apartment was in a prime location, just steps away from Pike Place Market and downtown shopping. An added bonus was the restaurant and whisky bar right downstairs (I'm a Scotch enthusiast). We will definitely stay again." - SA, Vancouver BC/Canada, 10/15/2015 (VRBO Review)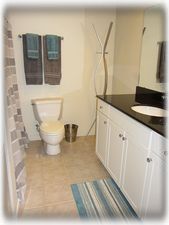 "Was a great apartment for easy access to downtown Seattle. The amenities were nice and the bed was comfortable. Would recommend." - Samantha H., 10/14/2015 (VRBO Review)
"Great stay, will do it again" - MICHAEL D., 09/29/2015 (VRBO Review)
"we were completely satisfied with this apartment which is steps from the pike market place. The apartment was clean, had a well equipped kitchen and a very comfortable king bed." - Robert H., 09/24/2015 (VRBO Review)
"I have read a lot of the reviews and they are all very similar...fantastic location for getting to almost everything you want to do...but lack of A/C is a bummer (hate to beat this to death). Even though it was stated in the agreement, it is hard to imagine what that means until you are there. Maybe having an additional fan available so that both rooms would benefit especially if you have more than 2 people staying. We had all of the windows open but the breeze didn't seem to get in the unit and the noise was amazingly loud. The temp was in the high 60's - low 70's during the day and that seemed to make the unit plenty warm. With that being said as our ONLY gripe...this was a great location and the staff was very friendly and helpful. The unit was really clean with comfortable amenities. Thanks for letting us stay here...we really enjoyed our time in Seattle!" - Kelly D., Byron, MN, 09/17/2015 (VRBO Review)
These guests were here three nights. The high temp on their first full day here was 72, and their 2nd full day the high was 65 (in the 50's at night). I think they may be the only people in Seattle wishing for AC at that time. The units do get somewhat hot when it's in the 80's and 90's outside (which isn't too often in Seattle - the reason 85% of Seattle residences do not have central AC). The apartments don't heat up much when the temps outside are not warm. They did have 4 adults in the unit, which probably made it warmer. We recommend a max of 2 adults to make it more comfortable in a 1-bedroom. If you feel you need AC, we'd advise you to stay at a hotel with AC since we want all our guests to be 100% happy during their stay with us. Thanks!!
"My group of 4 who have been making a yearly trip down to Seattle have until this year been staying at hotels. After staying in this room, I can say this is hands down the superior option. With a single-bedroom sporting a tv and a king-sized bed, a living room boasting two couches for the viewing of an even larger tv as well as a table for 4, and a homely kitchen stocked with dishes, cutlery and even a spice rack, this property had more than enough to satisfy our needs. Gone were the days of having to order pizza every night to feed the group; with the Pike Place Market and a Target a mere 5 minute walk away, we were able to buy and cook our own food saving us money on less-than-healthy delivery. We also made great use of the pool, hot tub, sauna and even the mingle lounge to barbeque and play poker. Check-in and check-out were an absolute breeze, and our stay was much more than enjoyable. Would definitely recommend this location to anyone looking for an escape in downtown Seattle!" - James W., 09/09/2015 (VRBO Review)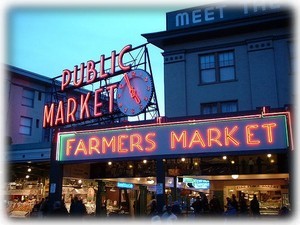 "Great location. Easy check-in despite a ton of traffic and difficulties parking at registration area. Stayed with 2 kids who slept on air mattress. Not a big place, but sizable bathroom and washer/dryer were handy. Pool was small but nice to have." - Ben H., 09/03/2015 (VRBO Review)
"We were a family of 4, staying here to do all the touristy things in Seattle. The apt was very well stocked with extra blankets, towels, and the kitchen was well stocked as well. The apt was very clean, but not fancy. There is a Target 5 min walk away for all your needs. Be aware that with no air conditioning it will be noisy at night with the windows open--I used earplugs and was fine. The apt is very secure with use of key fob needed for access. We also made good use of the pool, hot tub, pool table, and free classic arcade games. It would be nice to have an additional fan available for the living area." - Rebecca G., Fairfax, VA, 08/23/2015 (VRBO Review)
"The condo was very nicely equipped and comfortable for our visit. Perfect location, close to lots of fun stuff to do, no car was necessary while we were there. The only drawback was that there was some kind of construction going on nearby. And since we had the windows open for air, very early on it sounded like they were jack hammering on the balcony. Not exactly sure what was going on with that, but it was VERY noisy in the mornings. Hopefully it will not go on forever." - Karol S., 08/14/2015 (VRBO Review)
"Nice apartment close to Waterfront and Pike Marketplace. Lots of loud construction closeby, and with no a/c it was quite hard to fall and stay asleep. Only one fan in unit so we had to move it from bedroom to living room as needed. Also, was really put off because we were requested to strip bed and load in washer before leaving. We had a very early flight to Anchorage so this was annoying to have to take time to do laundry. All in all, was a nice, clean, comfortable place to stay." - Susan C., Wakefield, RI, 08/14/2015 (VRBO Review)
Unfortunately, there is a lot of construction right now downtown Seattle, including the waterfront. There just isn't a way around it. We do request (not require) that guests strip the beds and start a load of laundry before they leave. As most vacation rental travelers know, this is a pretty standard request. Had they not done it, it would have been completely fine. Please read our other dozens of reviews and let us know if you have any questions. Thanks! Debra, Picture Properties
"Fabulous location. We will be back sook" - joshua d., Rogers, AR, 08/12/2015 (VRBO Review)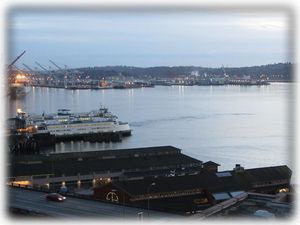 "My husband and I stayed here with our infant son and were very happy with the accommodations. The unit had a high chair, small pack n play and even an umbrella stroller for us to use. It was tastefully decorated and perfectly clean. Great location - the market only a few minutes away, options for coffee just outside the main entrance, and restaurants that do take out literally in the building. Was also close enough to walk to the stadium to see the ball games. Would absolutely stay in this property again if returning to Seattle!" - Erin B., 08/02/2015 (VRBO Review)
"Review undoubtedly biased because of heat wave- not the place to be when it is hot! No cross ventilation, little air circulation, benefits minimally from lower nite time temperatures. With all windows and door to patio open, quite noisy since next to a very busy freeway(plus expected downtown noises). Otherwise, location great - near Pikes Market, restaurants, shopping, concert hall, art museum, etc. Small kitchen, not particularly well set up for cooking dinners, perfectly fine for breakfast and light lunches. Excellent bed. Clean and relatively well maintained, nicely furnished." - Lloyd A., 08/01/2015 (VRBO Review)
We were disappointed to receive our first 3-star review due to the heat wave (we have all 5-star reviews except two 4-star). It's true there is no AC at Harbor Steps, but we make sure our guests know this by stating it on our listing, having it in the rental agreement our guests sign, and mentioning it again in the arrival info we email. 85% of Puget Sound residences do not have central AC. Average high temp in Seattle is 75 in July and Aug, but we broke 13 heat records in July 2015, making it the hottest month ever on record. Of course, that was out of our control. If you are concerned about potential heat, you may want to book a hotel. We do not feel it is fair to be graded down for things we cannot do anything about. We strive to meet or exceed the expectations we set and we feel we do that, and also did that in this case. Please let us know if you have any questions.
"This was our second time staying in this complex with VRBO, the first in this apartment. The apartment is tastefully decorated with everything you need for your stay. This apartment has a courtyard/downtown view. The parking worked out very well, but the elevator got very busy on Saturday as someone was moving in/out. The location is excellent. Seattle Art Museum is across the street from the complex, and there's a Target a couple blocks away for things you might forget. We went to the adjacent bar/restaurant (Von's 1000 Spirits) each night for the late night happy hour - good food and drinks." - Leah W., Sebastopol, California, 07/03/2015 (VRBO Review)
"This apartment has a great location, well stocked kitchen, comfy bed and extra linens and towels. The fan came in handy during our unusually warm visit since there is no AC. The air bed is better suited for children or 1 adult. The owner was very courteous and prompt with communication. We visit Seattle regularly and would definitely consider this apartment again for a future stay." - william dinenberg MD, Osprey, FL, 06/23/2015 (VRBO Review)
We are so glad another guest loved this apartment. FYI, the airbed is an Aerobed brand airbed - high quality. It's an actual queen size bed, same as any other queen sized mattress and most think they are more comfortable than sleeper sofas (which we do not have). Thank you!
"Our family (sons 11 and 13) stayed here for 4 nights while we explored Seattle. The location is very convenient, with lots of good restaurants nearby. The bed is quite comfortable, and the kitchen is well-stocked. It would definitely not sleep four adults very comfortably, as neither of the sofas fold out. Our kids did fine on the air mattress and floor, but I was glad it was them and not me! Our pre-stay directions were extremely detailed, making check-in very easy. We would definitely use this company again, although I think I'd pick a larger apartment next time." - Deanna, Minneapolis, MN, 06/18/2015 (VRBO Review)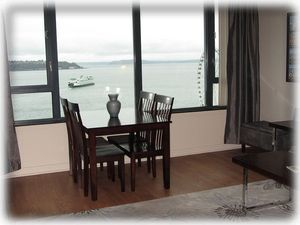 "First of all, I have to compliment the owner of this unit with her prompt and excellent service. A few days prior to arriving at the unit, the owner provided all the details regarding check in, parking, and general directions to access the unit. It all went perfectly smooth without so much as a hiccup. The owner was prompt and courteous with all communications and made our stay in downtown Seattle easy. The unit itself is a well apportioned and clean space with just about everything you could potentially need for your stay in Seattle. This would be a great unit just about anywhere, but given its location at harbor steps just a block away from pikes place market, it is a fantastic unit. I will be back to Seattle, and when I return, I will be doing business again with the owner of this unit, which I might add has additional properties around downtown if this one is is not available. I would stay here again without hesitation." - Michael P., 06/16/2015 (VRBO Review)
"This was a great location for our first trip to Seattle. We stayed here 5 nights and Debra was extremely helpful before we even arrived. She answered every question I asked and got back to me immediately. The apartment was only 2 blocks from Pike Place Market. We were in close walking to the ferry for Bainbridge Island. It was a short taxi ride to the Space Needle. We decided to walk back and enjoyed walking down 4th Avenue - only about a 2 mile walk. The Seattle Art Museum is right across the street. The apartment itself is great! Everything you need is there. The king bed sleeps great! Loved seeing the views from the elevator each day. Would definitely stay here again!" - Carolyn B., 06/09/2015 (VRBO Review)
"Our time at the apartment was wonderful. We were able to walk to Pike Place Market and get to public transportation easily. We took the ferry to Bainbridge Island and just walked around. We found the apartment to be very clean and great having a washer and dryer." - Addie B., Arizona, 05/22/2015 (VRBO Review)
"Your apartment is a great place. We will most likely return in the future if it is available when we make another trip over to Seattle for a few days. My wife, who is picky when it comes to beds, loved the bed. It was great to have the Queen sized air mattress available for use. The ease to get to Pike Place Market, to the Monorail, to Benaroya Hall, The Seattle Art Mueseum, etc. is great. We wanted to get down to the Big Wheel but time just did not allow it." - Mark W., 05/11/2015 (VRBO Review)
"Terrific location easy to get to! Staff was courteous, amenities and apartment were clean and beds were comfortable. Loved our first trip to Seattle." - Tim C., 04/19/2015 (VRBO Review)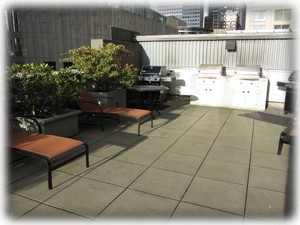 "Booking was super easy and responses were fast, so I was already happy. We took the train from the SeaTac and it was a breeze. Maybe 35 mins, and then a short 2 block downhill walk to the main entrance of the Apartment. We didn't arrive until 9pm, and there was no hassle. The person at the front, let us in and gave us the keys. Little tricky to find the apartment the first time, but we just missed seeing the elevators. The apartment has everything you'll need. Appliances are nice and everything was very clean. There was a few things in the cabinet that we used like olive oil and some spices. Everything in the apartment was excellent. The bedding was soft, the towels were thick and nice, and there was also pool towels. The washer/dryer is small, but at least there is one! We had 2 teenagers with us, and they used the provided air bed. No problems and pretty comfortable. The next morning we walked to the market, and wow is it close. We bought an awesome piece of fish and some veggies and brought them back to the fridge for dinner. There are BBQ's available. We used the one that is downstairs and right by the elevator. It is a big party room, and you can reserve it in 2 hour time slots for FREE! Really nice. As everyone has said, this apartments location is perfect. Walk to the pier, walk practically anywhere. If we wanted to go somewhere a little further, we just used Uber and there are always drivers close by. You should definitely stay here if its available." - Steve K., 03/24/2015 (VRBO Review)
"I recently came over the mountains for a mini-vacation and arrived here... a perfect spot! As a single, older lady this was just right for walking, exploring and re-visiting spots I grew up around. Seattle has really changed for the better! The apartment was spotless and had everything I needed for 4 days of visiting; I felt perfectly safe everywhere I went and would recommend it especially for women as it has great security. Debra was wonderful to work with in all aspects and she keeps a tight ship. I would recommend the Market of course but also many of the small shops all along 1st Avenue. Especially wonderful was the fact that SAM- Seattle Art Museum is right across the street. (Indigenous Beauty, Native American art throughout early history has just begun a run until may 2015.) Of course there is really everything right at your feet... you can't go wrong with this great home away from home." - Jan, Ellensburg, Washington, USA, 02/19/2015 (VRBO Review)
"My two daughters and I stayed here for 4 days and were extremely happy with the apartment. It was very comfortable, nicely decorated, very clean with a well stocked kitchen. It's a great downtown location and very close to the Great Wheel and Pike Place Market. We will definitely book here again on our next trip to Seattle!" - Shirley L., 02/08/2015 (VRBO Review)
"The apartment was large, attractive and well furnished, with excellent bedding and towels. Very clean. The kitchen was well equipped for basic cooking, and they tucked a lot of thoughtful items into the closets, like an umbrella and a laundry basket. Never heard a sound from another apartment, and the street noise was well muffled by the windows. The pool and pool table were great (though the room with the pool table was often booked by tenants). Didn't get to try the gym, but it looked good. Easy walk to SAM, Pike Place Market, lots of shops and restaurants. Look forward to staying there again!" - Jane M., 01/28/2015 (VRBO Review)
"Our family rented two units at Harbor Steps. It worked out perfect to be close to each other on the same floor. The location is convenient to activities for our young grandsons...Aquarium, ferris wheel, art museum, carousel, etc. There were restaurants we could walk to and Target was just around the corner to get things we needed for the children. The bedding was very nice and the condo was clean and had everything we needed...even beach towels to use at the indoor pool. My son in law enjoyed the great work out facility. Would definitely recommend!" - joann n., Tempe, Arizona,USA, 12/02/2014 (VRBO Review)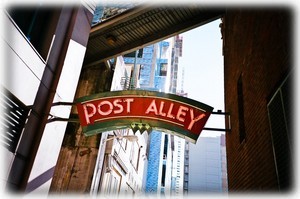 "I stayed in three condos over 10 days and found everything clean and comfortable. Great people to work with!" - lemon drop, springfield, mo, 11/24/2014 (VRBO Review)
"Great location, could walk to any number of attractions. Condo was very nice and clean, and everything matched the description. The ladies at the front desk were very helpful letting us store our bags and having transportation available when requested. Would book again." - Weekender, Sherwood Park, Alberta, Canada, 11/12/2014 (VRBO Review)
"Great location, perfect condition. Planning to stay again when we return to Seattle!" - KAren O., Dublin Ohio, 10/20/2014 (VRBO Review)
"We had a great stay at Habor Steps. The location is ideal for walking to many of the city's attractions (never needed a cab!). Debra with Picture Properties was prompt and helpful and check in/out was easy. As other reviewers have noted, there is some road / city noise, but we didn't find it excessive, given the location. The apartment is well furnished and comfortable and the building seems to be well maintained." - Timothy G., Franklin, TN, USA, 10/13/2014 (VRBO Review)
So glad another guest loved their stay with Picture Properties at Harbor Steps. Just wanted to note that considering the location right downtown in a large metropolitan city, the apartment is pretty quiet. You'd really need to get out of downtown for no noise at all. Just let us know if you have any questions! Thanks! Debra
"It was great! The property was beautiful, very clean and perfectly located! The restaurant on the 6th floor, Von's, is absolutely delicious!" - Alison, Alabama, 10/06/2014 (VRBO Review)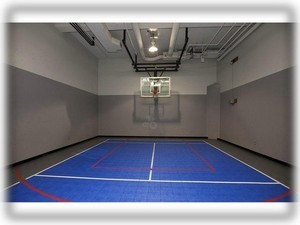 "You can't beat the central location of this apt. It is just a short walk to Pike Place and the pier with the Great Wheel, Elliott's Oyster House, the ferries, and Seattle Aquarium. I highly recommend staying here especially if you have little kids and need the space. It was so much cheaper than trying to find a hotel room. Having a kitchen was a necessity with 2 kids - we stocked up the fridge with food from Public Market and Target (also walking distance!) The apt. was clean and ready for us when we arrived and the owner was extremely easy to work with. We were missing a booster/high chair seat for our 1 year old which was suppose to be in the unit. We called the owner and within that day she had it for us. There was also a pack and play already in the unit which saved us the trouble of having to rent one or bring one on our flight. Overall, it was a pleasant vacation and I would not hesitate to book this place again when we return to Seattle. We're actually thinking of going back next summer." - Pauline, Thousand Oaks, CA, 09/02/2014 (VRBO Review)
"My husband and I stayed here for a few days in August and couldn't have been more pleased with the unit. The most important thing to me when traveling is the cleanliness of wherever we are staying and this unit was very very clean. In addition, it was super convenient to have the full kitchen and washer/dryer. The location was great, amenities were great, and unit was overall very comfortable. Absolutely no complaints." - Kate K., 09/01/2014 (VRBO Review)
"We were extremely pleased with the unit, complex, and location. The unit came as described and is centrally located to your bucket list of sites and activities. Walking distance to the Aquarium, Ferries, Pike's Place Market, Westlake Mall and the adjoining shopping district where you can hop the monorail to the Seattle Center for a small fee. Don't forget to buy a Seattle City Pass to save on attractions. The baseball/football stadiums are a hike but worth avoiding parking fees and traffic. As for the unit, it has a quiet location with a double Aerobed in the closet. The in-unit washer and dryer are a plus. Security doors from the street and garage are a great feature. Also very easy access to and from the freeway. Management provides well written instructions. We will certainly stay here again!" - David T., Orange County, Ca, 08/30/2014 (VRBO Review)
"I'm pretty picky about where I stay in regards to cleanliness, location, etc. This place was perfect. We traveled in July with our 2 small children and found everything to be really comfortable, clean, and great location!! Each morning, we'd take the quick walk to the market for food for the day. I was slightly concerned about not having AC (coming from Texas), but we opened the windows and slept fine, lulled by the city noise outside. Would definitely stay here again." - Julie K., Austin, Texas, 07/18/2014 (VRBO Review)
"My family and I stayed at Harbor Steps recently on a short visit to Seattle. We had never been to Seattle and only had a few days in the city, so this was the perfect location for us. This lovely apartment is right by Pike Place Market, which means you can walk to more things than you can possibly have time to see in a short stay. We walked to Safeco Field (twice...and with an 8 and 12-yr-old), the market, the waterfront, the monorail, and many restaurants...We never once moved our car from the parking garage! The apartment itself is so nice, very clean, and well-appointed. It would be best for a couple, however, we made it work with one kid on the couch and one on the provided air mattress. As for the price - I looked at several hotels in the same area and we would have paid way more for a hotel room that was as nice as the apartment. I never heard noise from any other apartment and the neighbors we came across in the elevator were all friendly." - Susie L., Tulsa, Oklahoma, 07/05/2014 (VRBO Review)
We are so glad to have more Harbor Steps happy guests! This unit is 700 sq ft, so around twice the size of a typical hotel room, and MUCH less expensive any time of year than the 3 closest hotels! With 2 kids, we'd recommend our 2-bedroom units at Harbor Steps (we have 4). But, if you have young kids, the bedroom is big enough to put the queen airbed at the foot of the bed, so the adults can put the kids in the bed, then stay up a little later in the main living area!